Iron Moon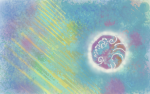 Fri, 12 Feb 2016
Each night she draws the iron moon;
She sketches its face on the sky,
In amongst the maelstrom of stars, hot gasses, galaxies.
Each night, she takes her time, she gives her heart.
Each night you brush it away with your sleeve, you smother it for wildfire.
You look at her so she'll know.
Each night she draws it back again;
Epitome of patience.
Each night the rust-hued hemispheres,
Silver freckles;
A taste for blood.
And she smiles at you with her green, green, green eyes.
Never with her lips,
Pink-hazel,
They forever focus, caught and held by the night.
Each night she traces its beauty,
Ruby red, glowing, jewelled, sapphires set beside garnets next to turquoise;
She follows the grain of the wood,
Down here in the coarse murk of earthliness,
In heaven as on earth,
So she traces those patterns, those secrets, that proof of life.
It's what she does,
and every night you breath away that beauty; blow it out like so many candles.
You're not wrong.
Because you see the iron smile;
You see, corrupt and glittery, green-dark, tinged and tainted,
You see the light that's cast,
The leaden moonlight,
Charcoal dark beneath its cloak of colours.
Each night she tries to catch you;
Each night you rub her out.