The Tenth Circle of Hell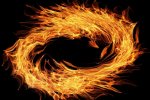 Wed, 09 Mar 2016
Your hell...blow Dante, you said,
was a circle of chintz-back chairs.
To add insult to injury – gave you
a country-cottage puzzle to do
to pass the time and you told them
in no uncertain terms they could stick it
where the sun didn't shine. Eff off,
you thought.
It was a purpose built circle within
a circle...all roads led to home
so no one could get lost...all arrows
painted on the floor – colour codes, 
grab rails – Velcro-fastening slippers,
chair-lifts, and photos of  the past.
The thing was, you weren't nuts
not in the normal sense...true – you wore
Paddi-Pads and needed a pelican bib,
your inhibitions you'd thrown to the wind, 
and had obsessions for biscuits...food
in general...anything didn't move – fair game.
And you had tantrums, not forgetting
your violent tendencies, but still you had
a whole load of marbles...more marbles left
than most are dished out with in the first place.
Walking round in circles – you grew giddy
and so, I bailed you out...for now, but the truth – 
plain to see, I lost your trust. So...fuck Dante 
and his circles, I've my own private hell; 
it's you and me shaped, and our long
goodbye.