Perfect Penny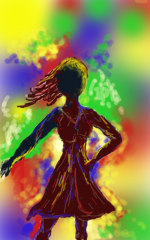 Mon, 21 Mar 2016
Perfect Penny.
See how she struts her stuff
On the dancefloor,
On the kitchen floor.
Her long legs entangled in yours;
Silk on silk, silk on sandpaper,
Cork-screw loving.
Waiting almost too long to come up for air.
Walking on rose petals.
Walking on living gold.
Those are her footprints,
Glowing through the dust and dirt,
The discarded used condoms, half finished McDonalds,
Crinkled up Coke cans.
Fading inperceptibly;
A luminiscent after-image haunts the sex-shop windows.
Perfect Penny.
She rubs the wounds into her skin.
Deeper and Deeper and Deeper,
Until they're one with the pigment,
Until you could trace them along the contours of her bones.
Neon, dancing: reflected in the corners,
Red and pink striped,
Never fading.