The Net Caster (Part Twelve)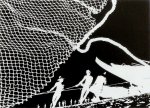 Wed, 02 Mar 2016
She had also been addressing me by the second person pronoun.  No AI does that.  It's third person only.  It's supposed to be one of the characteristics.  If they cover up the Tattoo and the serial number, there's always the speech patterns.
But then no AI can travel between systems either.
We moved along the deserted boulevard.  I was not sure how long it had been since the explosion, but I doubted it was more than an hour, and even in my exhausted state I marvelled at the efficiency of an operation that could completely clear an entire area of bio's and AI. 
Except for one vehicle travelling in plain sight down an otherwise empty boulevard.
After about five minutes our boulevard met another and we turned right, and a few minutes later we were out of the Pleasure Quarter and had joined the transitway into the city. 
I stared at the normality of it.  Vehicles moving along the flat, silvery surface, with the useless wrought iron lamps twinkling coyly alongside.  There were no ERVs tunefully screeching a passage through, not a single spyrocraft overhead. 
I began to wonder if the explosion had actually happened.
'Where's the Unified?' I asked.
'Where they should be,' she said.  'Rounding up the AI in the Pleasure Quarter.'
'They think whoever's responsible will still be in the Quarter?'
'Not now.  They'll have got them by now.'
I said, 'They were waiting for it.'
'There was a warning given, yes.'
'No,' I said.  'They were waiting for it.  They knew it was coming.'
'There was obviously a possibility of an incident,' she said. 'After the StarMo and the Kraken assassination.'
'No,' I shouted.  I started to lean towards her and was swiftly jerked back by my minders.  'They knew it was coming.  There was no shock, no chaos, they just moved smoothly in.'
'There are always emergency plans.  The Unified are a highly efficient force.'
'They knew,' I said.  'Just like you knew about the StarMo.  You and Hamish.'
'I was simply the messenger.  He sent me to get you.'
'Who's sent you to get me now?'
She didn't answer.
I said, 'I'm what they used to call the fall guy, aren't I?'
'I'm not familiar with that term.'
'The guy who's going to take the blame.'
'Not for this explosion,' she said.  'Or the assassination.  Just the StarMo.'
'Why?'
She said, 'I believe biologicals call it dumb luck.'
'Hamish didn't plan this?'
She shook her head.  'No.  When he heard you were there, he just said, 'Of all the StarMo's – ' '
' – in all the systems in all the universe, I had to walk into his.'
'You know the phrase?  I wasn't aware of it myself.  It's not Delany, is it?'
'No.  It's not Delany.'
We were coming into the city. 
Cytherea is low rise, in keeping with the Aphrodite's cultivated nostalgia for the romantic side of Pre-Event Earth.  Nothing over four storeys. They go to a lot of trouble to make the synth stone look real, to put elaborate carvings that are actually pre-moulded casts on the walls, to have squares and round circuses at the junctions of their boulevards, and street entertainers and hustling traders on their pediways.  Further into the Cluster the entertainment becomes more sensual, the lavender stronger (and reputedly mixed with other things that make the happy feelings even happier) and some of the wrought iron structures give hints of the pleasures available to the holidaymaker.  But Cytherea knows its place, and is content to provide an air of general prettiness and mild dissipation. 
We were passing by elaborately decorated dwelling buildings with colourful fabrics hanging at their lighted windows.  There were few figures on the pediway.  I wondered if the Unified had issued instructions for everyone to stay indoors, but there was no evidence of any official presence; it was just a residential area, and the inhabitants were either in their own homes or out enjoying themselves elsewhere. 
The vehicle drew up outside a white painted building decorated with a vermilion synth wood door and closed window shutters.
The ex-waitress said, 'Remember you are wanted by both the local and the Unified Police.  There's no point trying to escape.'
The door nearest the pediway opened and the minder got out.  The other put yet more pressure on my battered arm to indicate I should follow. 
The vermilion door opened before we got to it.  A tall woman with the mahogany skin of the Aphrodite stood to one side to let us in.  I had given up trying to decipher who was bio and who was not. 
'You found him then,' she said to the ex-waitress.  'We were beginning to think it had all been a complete disaster.'
I said, 'There was an explosion on a boulevard.  Bio's were killed.  AI were destroyed or are now being rounded up.  What part of that is not a complete disaster?'
The woman looked at me without interest.  'Upstairs is ready,' she said to the AI, or bio, still holding my arm.  He escorted me up a curved staircase with the inevitable wrought iron balustrade, and then along a landing until we reached a panelled synth wood door.  It was ajar and he pushed it open just far enough to bundle me through.
I was in a bedroom.  I saw a synth wood four poster bed, daintily carved (pre-moulded) vermilion upholstered chairs and a highly varnished occasional table.  On which stood a bottle of Aphrodite whisky and two glasses.
I looked round the room. There was no-one else there.
The ex-waitress came in behind us.  'Get him something to eat,'  she said to the minder, who nodded and silently departed.
'That one not programmed for speech?' I said.
She smiled.  'It's not one of his primary functions.'
'What's your primary function?' I asked.
She took off her padded jacket.  'I'm a government servant, just like you.  Or just like you used to be.'
'What exactly is the nature of your service?'
'Exactly?  It's to follow my programming.  I am unable to do anything else.'
'Would you want to do anything else?' I asked.
'Not unless I was programmed for it,' she said.  She put the jacket over the back of one of the chairs.  'The question is meaningless.'
'What are you programmed to do for the government?' I asked.
She picked up the bottle of whisky.  'Shall I pour you some?  I understand you're fond of it.'
'I drink some whisky and then end up in a Unified cell, unable to remember my name?'
'It isn't drugged,' she said, 'although of course I am unable to prove that to you by sampling it.  However, I would say that if we wanted you in a Unified cell, unable to remember your name, we wouldn't have to waste good whisky to achieve it.'
After a moment I said, 'OK,'  Followed, unnecessarily, by 'Thanks.'
She brought me the glass.  'Your health is, I believe, a customary toast.'
'Customary.  Not exactly appropriate.'  I sipped, and then drank.  Honey and gold fire.  I felt it running through each fibre and sinew of my body, scouring the desiccated cells of my brain.  There was a strong possibility I would fall over.
I sat down on the four poster bed.  'You haven't answered my question,' I said, through the honey and fire.  'What, exactly, are you programmed to do for the government?'
'I'm programmed to kill biologicals,' she said.
​To be continued...