The pre-prepared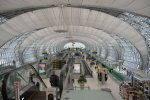 Sun, 17 Apr 2016
1 likes
She knows the sign of the hydrated, iron pressed, well rested-
applies the 175 ml rule to everything including concentration.
Her fingers feel into side flaps,
frisk hip ridges, ask you to remove your overcoat, shoes, bracelet.
Through the scratched plastic partition, 
she can see the other lines of soldiers neck deep in luggage mist.
She grimaces at the father flustered by bottles of formula,
falls in love with the woman whose computer bears the sticker 'better bleach it'
She treasures the sun warm suitcase feeling of the best ones-
the woman with bergamot hand anti bac, the man with each t shirt wrapped in tissue paper.
These she takes to sleep,
there they un-pack, throw their things all over her dreams.