Trip to Say Goodbye - 4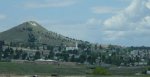 Wed, 06 Jul 2016
We got off to our early start, and as soon as we had gone ten miles down the road, it was time to change our watches back by an hour to Mountain Daylight Time. We were now 7 hours behind English time.
Even though the days were mostly in the high 80's or low 90's on the whole trip, it cools off at night, so on this 5.30  start, it was about 48 degrees C. The earth is cold and the sun is hot, so the result is low lying fog – and this took the form of long narrow clouds which were at ground level. They didn't go high enough to obscure the view or the sun, but when we had to drive through them, it was like thick fog. And it somehow made it look like we were driving through a tunnel. Very weird.
This part of North Dakota is fairly wild – with ranches predominating over farms, and buttes gradually raising until you reach the Bad Lands – which I won't tell about now, as I have done so in several of my writings in the past. Suffice it to say this is Cowboy and Indian country at its best – and you would recognise the background of many movies of the past.
Montana is a huge state – some 600 miles across. We had no hope of doing the whole distance, but were aiming for going beyond Bozeman where we had stopped on our trip two years ago. As that is very close to Yellowstone Park, we had great difficulty in getting a motel, so our aim was to go a 100 miles or so beyond that. The snow topped Rocky Mountains start about 200 miles into the state, and carry on in their glory for the rest of the way. We had quite a few stops just to admire the views – as Cathy had not been on a trip in this direction since she was a child.
When we had visited with Cathy's brother Keith, he and his family had just returned from a two week trip to Yellowstone, and they told us the kids had been offered $50 if they could find license plates for each of the 50 states. Keith conceded Hawaii and Alaska might be a problem, so they accepted Canadian provinces in lieu of these. The kids got their money. So we decided to see if we could match their endeavour. On the first day of the trip we found 13 – mostly touching states to the ones we were going through. However, when we got nearer to Yellowstone, we picked up another 20 or so, including some from the far south and one or two from the Northeast. We had already got all of the central and western states. On our last day, we picked up three Canadian provinces, and a license for the Indian Federation – but were still about 10 short of the others final score.
Highway rest stops provide nice toilets and a place to walk the dog. Occasionally you might get food from a dispensing machine, and at least there would be a water fountain. But often we found that when we got close to one, there would be a "closed" sign and another saying, "next rest stop 80 miles." Sometimes that one was closed too. I suppose this is a feature of economic depression. It never used to be like that.
We had our lunch stop at Miles City, Montana, and ended up for the night in Butte as planned. We booked ahead and based our choice on the fact that Larry had stayed in this motel chain before and had liked it. And I agreed, it was way ahead of any I have stayed in in the States. It was a Quality
Inn, and we were offered hot just baked cookies at the reception. As well as having a pool (which we didn't use) it had a lovely outdoor patio area where we sat out and watched others eat, and it had extensive gardens to walk and a hiking path that Cathy was keen to use. And it was the only place for the whole trip where I had comfortable pillows. Usually I take my own, but I couldn't fit it in with only taking hand luggage.
We went to eat at a place recommended by the manager, called the Hanging Five. I ordered a steak with blue cheese dressing and onion rings, which was rather a mistake as they didn't really go together. The others were happy with their meals. I also bought two copies of a recipe come suggestion book on sale – thinking they would make good presents to take back home. I would happily spend more time in this area, in the summer. But in winter it would be a beautiful nightmare.