The T-Rex who Lost his Teeth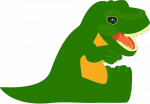 Sun, 04 Sep 2016
There once was a T-Rex, big and tall
He had the sharpest teeth of all.
They were so shiny, pointy and straight
They sliced through everything he ate.
He showed off his teeth whenever he could
To the Dinos in the neighbourhood
Not a blemish, a stain or spot
He brushed them daily, he never forgot
One day while he was flossing,
T-Rex had a nasty fright
His beloved mouth of toothy-pegs
Were now, not quite so tight.
He tried to push them in again
But made them wobble more
His teeth were moving to-and-fro
And his gums were rather sore
T-Rex felt so very sad
He started to cry and stomp
"I am the fearsome T-Rex" He cried
"I cannot lose my chomp!"
He went to see his Dino friends
To ask them what to do
Friends can help to cheer you up
If you are feeling blue
"Pteranadon my teeth are loose,
I've tried to eat but it's no use.
How will I bite and snap and crunch?
How does a gummy T-Rex munch?"
"Worry not my toothy friend
Your teeth will fall out but it's not the end
The new ones will grow back real fast
And you'll be back chomping at long last"
"Triceratops my teeth are loose
I've tried to eat but it's no use
How will I gnaw and munch and nibble?
Without my teeth I'm going to dribble!"
"Don't worry T-Rex, don't you weep
The tooth fairy will come while you're asleep,
To take your teeth and leave instead
A juicy bone beneath your bed!"
"Ankylosaur my teeth are loose
I've tried to eat but it's no use,
How will I nip and pierce and tear?
My poor teeth! It's just not fair!"
"Please don't worry my Dino friend
Your teeth will come back in the end
You lose your teeth when you're a pup
It just means you're growing up!"
He tried to forget his toothy woes
And went to play with the other Dinos
But he went too fast on the roundabout
And his wobbly teeth just flew right out!
Now the T-Rex was seriously gummy,
His friends all laughed and said he looked funny
He thought he'd be sad when he lost his teeth
But instead he felt a sense of relief
He collected his teeth to put under his bed
And wrote a note asking for new teeth instead
The tooth fairy came and did a new tooth spell
(She left the T-Rex a juicy bone as well!)
T-rex woke up and ran to the stream
He looked at his mouth and started to beam
His brand new gnashers were better than before
"My teeth are back!" said T-Rex with a ROAR
His dino friend all gathered around
He had the best teeth in the entire playground
They were so shiny, pointy and straight
They sliced through everything he ate
He showed off his teeth whenever he could
To the Dinos in the neighbourhood
Not a blemish, a stain or spot
He brushed them daily, he never forgot