DOWNTOWN ABBEY edith 1970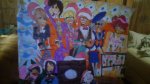 Mon, 19 Dec 2016
                          Edith and mary as old people
After 28 years of dodging the Crawley family gatherings. Edith is coming home for Christmas. Maybe she is a glutton for punishment.But it feels like the right thing to do. Even though Bertie her husband and all of her girlfriends back home in Australia think she has gone bananas.She has always been the black sheep. The chubby girl in a family full of Disney princesses and incredibly charming women. Of which she is neither.
Last time she went home for Granny's 100th birthday palooza in 1942, it was disaster. She smeared blueberry pie all over Mary, her dragon lady older sister.The look on the skinny gargoyle's face when Mary realized her white silk dress was ruined was priceless. Mary wouldn't shut up about what a fat, hopeless cow Edith was as a mother.Edith deserved some of it, for writing that embarrassing story about her sister all those years ago when she was a teenager. And a million other awful things she had said in the heat of the moment. But Mary should have left Bertie out of it. Luckily,granny and her friends were pretty tipsy and completely deaf. Thank God, nobody heard what Mary said about Bertie's strong feminine side.It would have ruined both of their lives.
People were really funny about that sort of thing now.Even with all this talk about free love.It was true he liked to crossdress and sometimes very discreetly meet with men. He had told her before they got engaged and she hadn't cared.As long he never left her and she didn't have to meet or hear about them.Bertie helped cover up her daughter being born out of wedlock. Very few men would have done that.He was good to both of them and helped her make the big decisions in the marriage which made her rather panicky. And he bought her flowers just because. Which no man had ever did before.
Edith is not making this trip for herself.Honestly, she would  rather stay put surrounded by fans and friends who adore her.The great neices and nephews only knew her as the old lady who writes mystery novels and plays that sent them bizarre gifts from all the places she and Bertie had traveled to.Marigold, her daughter is hosting the Christmas party at her house in Beverly Hills, California this year. She has had a rough year with that divorce and that jealous crackpot trying to discredit her work.He was proven wrong and settled out of court ,but still. It has been all about Edith for a long time,which isn't right.
Rose said that last year,When they were on a trip to India when Edith struggled to make excuses yet again for Christmas. Rose didn't understand what the fight was about and thought Edith hated her.Even though Rose is in her early sixties, Edith will always think of her as the silly energetic kid who kind of looked like Tinkerbelle and always thought when people where fighting it must have somehow been her fault.Even if things should go bad , she will have fun checking out the Hollywood walk of fame with her daughter and Rose.Also she found a muumuu that makes her look 20 pounds lighter,That is something.
And Edith had an extra bullet in her arsonel. She has been reading this new self help book called " I am ok ,your okay". which is really beneficial in healing yourself and dealing with difficult people.She was keeping that and a barrage of snappy comebacks handy , just in case , Mary started on how fake Edith's red hair looks when she waddled through the front door.
Edith arrived in L.A. all safe in sound thanks in part to the exceptionally kind  bearded gentleman in the fuzzy lavender trousers.Who aided her in finding a bakery in which to buy a Chocolate yule log and a pumpkin pie that was open Christmas eve. He also aided her in getting unstuck from the backseat of that cab.

Marigold was surprised and showered her mother with kisses the moment she came in.Suprisingly, she wasn't too irritated about Edith being a little late.But then,Edith is always late.This time it wasn't her fault.She was chasing the damned luggage all around the airport.Marigold did roll her eyes when Edith said she wanted to make a dramatic entrance and that is why she didn't call first and ask for a lift from the airport.

Maybe later Edith could hint about her making a trip to Melbourne.The handsome widower down the block from them liked quiet women.They both liked to ride horses.Marigold looked like a younger version of Katherine Hepburn.She even wore the office shirts with the popped up collar,everywhere.



Rose is passing out Father Christmas hats and showing off her engagement ring Garesh had given her.They had known each other when Rose was growing up in India and reconnected on that trip to India. And had been writing letters to each other every day every since.



Everyone is present except George, Mary's eldest son.Who couldn't face his mother with his latest much younger wife and baby girl.She offered to accompany them as acting president of the black sheep club.But he was afraid of what people would say about his abandonment of his mother and the house. Even though his brother Reggie.The one that came back from the war years later with the most insane story of why he had been away so long. Had major success with the beer garden and
'' no shrinkin' violet beer label. And took good care of his mother.


Mary sitting on the neon orange couch next to the aluminum Christmas tree. Thin as a strumpet and Regal as the queen she was named after.Her older sister still dressed like it was the 40's. complete with white gloves and a blue and white polka dot dress with a stiff lace collar.Their was something decidedly different about Mary.The arrogant smirk has been replaced by a vacant look.Mary is muttering something to the aluminum Christmas tree who she thinks is a copper. Something about the beach and finding henry and her boys. My God she thinks it 1928 , not 1970, Edith shakes her head.Mary is the only one not in line getting food.They used to play pranks on each other all the time.But she really looks terrified and lost maybe.Reggie needs a break , he looks so worn down.



So Edith gets kid -sized portions of everything.(Mary never did eat much: you can't when you wear a corset all the time) And Edith gets her to eat and they talk while watching Charlie Brown. The whole time Mary thinks Edith is granny.Which is irritating because she didn't think she looked quite THAT old.Even bringing up that dinner and medal of honor she received for saving all those jews during the war (it was way more than the handful ,mary had always said) didn't ring a bell.But watching Charlie Brown and listening to the cartoon kid with the blankie  talk about the real meaning of Christmas. Nothing matters but right now ,even if you are thirty years too late.