Beth Tree and the Elgars 1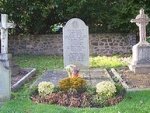 Sun, 11 Jun 2017
 April 15, 1920
Last week, I went to Mrs. Alice Elgar's funeral at St. Wulstan's church in Little Malvern. She had only become ill since Christmas, and when I had a card from her at that time, she didn't mention any problems. But her friends apparently noticed she had lost her normal vitality. She did manage to go to a performance of Mr. Elgar's Second Sympathy in Leeds, in March, and then went to see a Harley Street specialist after that. Her last musical outing  was to hear a concert of  Mr. Elgar's chamber music in London, but then she took to her bed, and died a month or so later of lung cancer.
It was a lovely service. The slow movement of the string quartet that she had inspired and so loved, was played by four friends in theirs in the background. Mr. Elgar looked a total mess, and was hanging onto their daughter Carice's arm, as if he too were about to die. I went to shake his hand and express my sympathy as we stood outside after the service, but he didn't even seem to know who I was.
One of her brothers was there too. I saw a few of the girls who had, like me, had lessons with him, and therefore, knew his wife from that. It all made me very sad. She was a lovely woman, and without her help and influence, I wouldn't now be a violinist of some repute. She didn't teach me or inspire me, but she helped to give me the ability to see beyond his quirks and bad temper to his genius.
When my sister Jessie saw how low I was after the funeral, she suggested that I write about my memories of Mrs. Elgar – I never called her Alice. I have never been a writer like Jessie is, and she and Janet have now written two books between them. But I shall give it a try.
I need to give some of my own background in order for this to make sense. My name is Elizabeth Julianna Tree but my family call me Beth.Our father Warren Tree, was a solicitor in Worcester, and it was through him that we met the Elgars in the first place. Our mother is Julianna Brown Tree, originally from Plymouth. I am the third in a family of eight children, although now there are only five of us left, my brothers having all died in the Great War. My sisters wrote a book about them, called Orate Fratres, and Jessie also wrote a book about Father when he died last year which she called Grandad.
Our family from the time of my parents' wedding up until Janet was born in 1892 lived at 2 The
Paynes, Malvern Link. The Elgars also lived in that area. Previously, Mr. Elgar had spent a year as a clerk in a solicitor's office, and I think that is how he first met my father. And although he stopped doing that when he started giving music lessons, they remained friends. We often had big family picnics in our garden, and Father would invite other friends along. That is where the rest of us
met Alice, as I shall call her now. I remember that I was sitting near Mother, and she had singled out Alice who didn't know any of the others, to put her at ease. Mr. Elgar had gone off somewhere with the men.
"Do you come from these parts, Mrs. Elgar?" she asked.
"Oh, no. I only moved here after my father died. I was born in Bhug, Gujarat in India. We were in India because my father was a Major General in the army and it was at the time of the Indian Mutiny.
"And do you have brothers and sisters in England?"
"I had three older brothers, but one Albert, died when he was a baby. Then there are Fredrick and Stanley, and they live in England, but not near by." (It was Stanley who I met at the funeral.)
"So how did you meet Mr. Elgar?"
"I went to him for piano lessons, and after three years of that, we found that we worked well together. I am a poet and he found that he could put my words to music."
"So, have you collaborated on many pieces of music?"
"Oh, yes, I think there must be a dozen or so now," she said, but added, "but his current work is based on the Black Knight, which is quite a different kettle of fish. And how many children do you have?" she asked my mother.
She said that she knew that Margaret and Jessie knew her husband, as he was teaching music at the High School for girls, run by Miss Alice Ottley.
Then as the next oldest,  I was duly introduced, and when she asked if I had an interest in music, I told her I loved it and longed to play the piano. So since Mr. Elgar was keen for more pupils, my mother made the arrangements there and then for herself, and all of us children who wanted to, to go to Mr. Elgar for private lessons to learn the piano.
I must admit that it was only Margaret, Charlie and me who took it very seriously, but Mother did learn too. Father bought us a lovely piano, and it was hardly even not being used by one of the other of us.
As soon as we could, Margaret and I also learned the violin too, and that is now my specialty. Janet also learned the piano and violin later on, but she never had Mr. Elgar to teach her.
Although I loved music, as I mentioned earlier, my lessons were not a pleasant experience.
(to be continued)