Beth Tree and the Elgars 6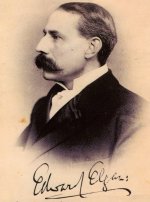 Sun, 09 Jul 2017
Mrs. Elgar confided to me that one of the people who she really expected to be represented in the Variations featuring Mr. Edgar's best friends, was Dr. Buck. She told me that they had been friends since long before she knew him.
"How did they meet?" I asked.
"There was a 50th anniversary celebration at the Shire Hall in Worcester and Edward was the leader of the orchestra who was providing music for a soiree on the last day of the conference. As usual with local music societies, there was "a shortage of strings". John Beare, an old friend of Edward's family, had connections with a music group in Settle. He knew a local doctor, Charles William Buck, who – a keen cellist in his spare time – would be attending the conference. They invited him to play with the orchestra at the soiree.
"Edward and Charles became friends. Each was in love with the countryside. Each had a soft spot for animals, especially dogs, and, of course, for music. When Edward, was invited to visit Charles in his home at Giggleswyke he said, 'Well, I'm free in a week's time."'
"The two young bachelors walked, talked, played golf, undertook japes or jests and, of course, gathered with friends in the evening to play music, usually in a fug of pipe smoke. The back room of the house was a music room. Edward found time, when in Yorkshire, to compose simple pieces, one of which, entitled Rosemary, was a piano solo. He invariably signed his locally-composed scores, included the date and the venue, Giggleswyke."
"That is one of the pieces he gave me to learn," I said.
"Edward felt for the first time that here was someone who appreciated him. At home, he lived with Polly, an older sister, to whom he was devoted but he lacked a close male friend. He found in Charles similar touches of mischief to himself."
"I'm not sure I would say Mr. Elgar was full of mischief, but of course he is a lot older now."
"Edward owes much to Charles, bringing him out. Edward might play things to him, or send things to him, and Charles would criticise them."
"I wouldn't think he would like being criticised."
"Ah, but he knew Charles would only do it, if it needed to be done. After that Edward went to Gigglewick, frequently. His greatest gift to to Edward is encouragement and a sympathetic ear. He inspired him as they walked or sat side by side on the doctor's horse-drawn trap
during his medical round of farmsteads."
"Did he dedicate anything to Charles?"
"In 1884 Edward did dedicate a Gavotte for violin to 'son ami Dr C W Buck' admitting that this had been done without permission, 'but – of course – with every respect.' It was 'in memory of the old days'. "
"You said they had love of dogs in common. Do you have a dog now?"
"Edward is passionately fond of dogs so his friendship with Charles was enhanced when the good doctor gave him a dog named Scap. Incidentally, Edward's present back to Dr. Buck was a recliner chair that had an angled arm and flat surface that might be swung, and which he used when he was there for writing music. But to answer your question, no we do not have a dog now. I can't abide
them."
"So what happened to Scap when you married?"
"Fortunately for him, Edward's sister took a tremendous fancy to this dog – and the dog fancied both of them. So when we married and he discovered that I hate dogs Scap had to be left with his sister. And I don't really like cats either, so I stipulated that if Edward had a cat, it must be kept in the kitchen."
"Did they just go on local walks together?"
"A favourite walk of the two men was along Giggleswick Scar. They came face to face with sheep – and, on one occasion, with a cat. Edward writes loads of letters, and he often illustrates them. One of his letters was to Monica, Charles' daughter, and it bears the illustration of a cat with squiggles
representing mice, achieved with a few deft strokes of the pen."
"I expect Dr. Buck was very busy as a doctor, but what sort of music did he get involved in when Mr. Elgar wasn't with him?"
"When Edward wasn't there, Dr. Buck spent much time making music.. Most evenings, when he played his beloved cello, he contrived simultaneously to smoke a pipe. His daughter had to clean and re-fill with tobacco a dozen or two of his smoking pipes. On the door a strip of metal was drawn back at the top of the door, a row of holes was exposed to allow pipe smoke to filter into other
parts of the house.
"He was also the conductor of the orchestra that played for Settle operatic performances on the stage of the Victoria Hall. During Edward's visits, there was much music-making with Charles, his wife Emma, and his circle of musical friends."
"He sounds a very well rounded man," I put in.
"As well as walking, the two men spent much time fishing, and caught trout in the Ribble, which they happily ate. And they went farther afield together. In clear weather, Edward tells me that standing on the grey rim of Giggleswick Scar they would see the imposing fells of the Lake District. When Dr. Buck took him to the Lakes they beheld Windermere. The viewpoint was Orrest Head and
Edward was speechless due to the beauty. After that he wrote furiously and composed a Lakes Overture. After I married him, we spent much time visiting Lakeland."
"What first attracted you to Mr. Elgar?"
"He had a mischievous character. His eyes twinkled. They are blue eyes with a curious trick of changing colour. It's really an effect of the light. But when he becomes excited, the eyes seem to shine out, as it were. He is quite capable of hypnotising you. I am sure that is how he runs his orchestras and choruses."
"I know what you mean," I said.