Life and Times of a Priestess: Ch.12: Mireau (Section 3)

Image: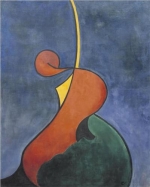 Fri, 10 May 2019
Section 3
    Mireau's home was in another central district of Dumis.  It was a lavish four bedroomed home with all the trappings of genteel success, ornate, fashionable furnishings and furniture.  Mireau poured her a glass of watered gin as he helped himself to a whisky.  Danella had come to enjoy the taste of the drink, unfamiliar to her as it had been in Pirion.  They talked in the polite conversation of Prancir, which Danella found she enjoyed, of interesting and serious things.  She knew that her possession of his body was ensured.  Why else would they be meeting at this time and in these circumstances.  She knew he knew it too, but his Prancirian experience would lead him always to doubt.  There were few certainties about love and romance in Prancir, unless it was with one's wife, and even that could never be certain.  She detected some nervousness in the man which not go away until they made love.  Nonetheless she did not wish to rush this day.  She enjoyed conversation, and serious matters and was in no great hurry to engage physically with him this morning.  The memory of the night's entwinement with Ravelleon still lay fresh in her.
   "So why did you come to Prancir with Ravelleon?" asked Mireau.
   "Because he asked me and I wanted him, and because I was leading a controlled life in Dalos.  Also I needed to see the world."  She surveyed Mireau's handsome beauty, his supple poise as he gave his full attention to her.
    "Does your wife go away often?" she asked of him.
    "Yes sometimes.  She has relatives in three different towns."
    "Do you enjoy your wife?" she asked.  It would have been a very personal question for a Prancirian to ask, but Danella was not of Prancir.  Mireau had already become personal with Danella by inviting her here.
    "My wife is fine, but I need more," he said, not wishing, she presumed, to give the impression that he loved his wife too much for the fear that Danella might consider him not to be interested in her.
    "You like your wife but you like the idea of being free," she commented.  "You're an intelligent man I can see.  I am sure you have had other lovers," she said, testing him, "as many as you can attract."
     "No not that many," he smiled, "But I've had some." He smiled perceiving that she was not put off by the idea that he might have had other lovers.  This kind of woman who would encourage a man to bed her after the first evening out, was not the kind to be restrained by the mere mention of other lovers.  Perhaps she wanted to oust his wife and take her place.  Could she be sure she liked him that much.  But then, he reminded himself, she was a Pirionite priestess.  He had been much admired by women in the past.  Their interest in him had often proved strong over the years.
     "I should not ask, I know.  It is not polite is it.  I am too curious.  We Priestesses are too frank perhaps," she apologised, not wishing to anger him but keen to find the extent of his lusts.
     "I do not mind. Ask what you want.  I don't promise to answer every question but you may at least ask."  His confidence in her was rising again she perceived.  All the signs pointed to him achieving his desires today.  She kept her eyes fixed on him.  It was nearly time for her to touch his tidy flesh again.  She could feel the beating of her heart and the aching awareness in her vulva.  She brushed her leg gently with her fingertips.
    "As your wife is away I would like to be your wife for today.  Would you like me to be your wife today?"
    "Yes, it's an enticing idea, if you will.  That 'kiss' you gave me last night seemed like the real thing?" he quested.
    She toyed provocatively with the hem of her dress.  "I note your wife cannot fulfil all your needs.  I imagine you need more sex than she can offer."  She halted for a moment.  He said nothing, the moment seemed suspended.
     "I like you Mireau.  I like you very much.  You probably think it strange to like someone so quickly without knowing them well."
     "It is unusual here.  But I understand where you come from things are different."  He knew what was coming now.
      "You Prancirians are slow to make love.  In Pirion there would have been no need for talk.  It is time."  She rose from her chair and came to the settee where Mireau sat.
Her blood ran warmly in her veins and she felt powerful as she carried out this seduction.  It could not fail.  No man that she had ever wanted had been denied to her, except for Ravelleon.  In Pirion they chose her.  A glance, any sign of interest could usually win her any man she wanted.  She imagined what Mireau might be thinking now.  A beautiful woman recently arrived from another continent had chosen him to make love to.
     She leaned over his settee towering above him, to take him and wrap her arms around his gorgeous body.  Reaching her fingers to his crotch she began to unbutton his flies, glancing to his elated eyes and flashing a smile.  Her tongue snaked out of her mouth as she pulled out Mireau's cock, attentive and glistening before her.  She pulled down the foreskin studying it intently and commanding its arousal. She began now to massage the penis along its shaft, sighing in her pleasure and in anticipation.  Rolling the glans of his warm penis against her cheek she drew its lubrication across her flesh.  She lubricated it more, rolling it across her wet lips, fondling it with her fingers and drawing it close before taking it into her welcoming mouth.  She loved the feel of it on her tongue as she closed her lips around it, tasting it, savouring it.  Raising her head she licked its rigidity as she heard his breathing becoming stronger.  She felt him running his hands through her dark hair as he relaxed to her ministrations.
     She grabbed for those buttocks which she had eyed so long last night before and after the ballet.  She ran two fingers down the soft skin between his anus and his testicles before swallowing his penis again, deep into her mouth.  Mireau held her as she pushed her mouth forward over him, as she sucked lovingly on his hardness.
      She could feel his excitement welling up from deep within him, small signs, his body beginning to tremor with unrestrained excitement.  A flush was over him and his breathing became uneven.  Softly she moulded him with her hands and offered her body to his sight.  She felt disappointment that he had become so excited so soon, but it was common among the soldiers she had known.  The experience of illicit love with a stranger or of the chance to make love to someone new often proved too much for them.  She knew men too well to refuse them at such a time.  She would ride with their pleasure wave, exhorting and nourishing it until it would break upon her.  Her pleasure was Mireau's.  She surveyed him with her eyes but kept her lips clamped firmly around the slavering penis, massaging it with mouth and tongue as she pulled at it, willing it into her throat until finally the milky waters broke, gushing into her mouth.  She released the lips of her mouth to let him see his precious liquid on her tongue and dribbling from her mouth as she panted, then took his penis deep into her mouth again to suck gently before it softened.  His body shuddered in contentment as his senses returned, but his penis did not lose its vigour.  He remained full of excitement although he seemed helpless to move now, weakened by the enormity of his experience.
      She rested her head against his chest as she leaned against him, kneeling before him.  Slowly he gathered her up in his arms and she felt the warmth of him.  With one hand he massaged her swollen breasts and felt the hardness of her nipples.  His tingling touch brought pleasure to her.  He pulled her up to him and she sat on his knee leaning against him as their faces came together.  As tongues tenderly tested each other Mireau slowly explored the mounds and curves of her body, finally resting his right hand between her legs, fingering her wet sex, inserting first one finger then two into her vagina.  She sighed in encouragement. 
     Wriggling off him she sat beside him leaning back against the backrest and spreading her legs wide.  Thus she invited him to pleasure her.  She reached out her arms to pull him to her and brought his head to the moist lips of her quim.  He licked slowly, as she began to moan softly in the way Priestesses often did.  Mireau licked her clitoris all ways until it swelled even more.  He was good, better than she had imagined.  She knew he had practised this on more than one woman and had earned a wealth of experience.  She felt her legs tense, clasping his head in her tightening grip.  Then he pulled back not wanting to climax her this soon, although he had already given his own orgasm.  He teased her with his tongue all over her tenderest flesh.  His hands gripped the cheeks of her bottom as he feasted on her.  She found delights in the emanations which coursed through her body.  Tension had been mounting in her and then she felt freed from it as the memory of her past excesses as a Priestess came to her again.
     "Please do it to me," she cried.  Immediately she felt his erection press against her pubic mount and slip inside.  She gripped the arm of the settee as she wriggled and writhed beneath him.
     "Fuck me please."  He grasped her hips as she held her legs wider.  Her whole body shuddered as he penetrated her.  "Hard, please, hard."  He took her hard and quickly, in and out of her vagina as she breathlessly called for more.  She entered an ecstatic trancelike state as the penis pushed inside her.  She felt the muscles of her quim grow more taut, squeezing Mireau as she milked him.  She came, as Mireau again expended himself, hot and feverish inside her.  Her muscles still squeezed at him as her mouth hung open and groaning in her release.  He sank upon her, his wet cock sagging on her flesh as he rested in her arms, satiated for the time being.