Up Across the Road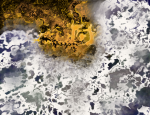 Wed, 18 Sep 2019
Come up across the road to me.
She extends her hand,
Invitation?
Trap?
Conspiracy?
She flickers in the wind, static on snow-scree.
Skeletal.
Celestial.
Twelve percent silver
Ten percent fire
Three percent dynamite.
Nothing, nobody, nothing could compete.
Come up across the road to me.
Wild horses wouldn't have it any other way.
And not if gravity increased ten-fold, one-hundred-fold, one-thousand-fold;
Not if a wall was built there,
And traps were laid, and red tape, and regulation, and rumours.
No, you'd still fight your way across,
If it meant you might touch that hand.
You want-want-want-want –
There's nothing like it.
What wouldn't you do for her?
What conceivable thing would you baulk at?
Come up across the road to me.
Her body is welcoming, sinewy, stretched tight, soft, lucid;
You can wrap your will inside her and find yourself hollow,
And her, full.
And still. You could feed on her for eternity,
Never suck dry that fruit-sown well.
Her body is eternal, is poison, is passion, healing, is heartening,
Binds you before you acknowledge it.
Nothing could induce you to escape.
Come up across the road to me.
She likes darkness; the night gone starless and moonless;
She likes the brightness of night-time,
The greyness of morning;
She likes to tease the water with the tips of her toes.
She likes to skim the water's skin;
And then she likes to plumb its depths.
She likes to lie back against the grain of the wood,
Amongst the tickle of grasses;
She likes to watch the snow fall, feel it kiss her cheeks,
Never moving from the spot, amongst woodgrain, grasses, where she lays.
Come up across the road to me.
She says, "This cannot last, you know.
"Oh you do know, don't you?
This can only be a flash of lightning;
Darling?
This can only be the moment when dawn is but a single strand.
We, us: we could never stand the full glare of sunlight."
And you say, "Yes, of course,
We belong to the moment, nothing more than the moment."
You wish the moment could last forever.
Though you'd never dare tell her so.
Picture credit/discredit: author's own work