A ray of clear light …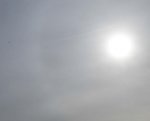 Sun, 20 Oct 2019
[Continuing the hymn-for-Sundays series]
In the fog all grope and grieve –
needing light that won't deceive,
truth enlightening muddled mind
shows the pardon we can find.
Born with ease to lie, a skill,
soon improved to trick at will
– what a pointless exercise,
one day grief for all those lies.
Light can hope and goodness build,
prophecies have been fulfilled;
cynicism will not aid,
grasp true hope that will not fade.
Tune: 77 77 eg Buckland (tune of 'Loving Shepherd of thy sheep)