Words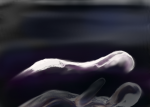 Tue, 07 Jan 2020
I am not afraid.
At least most of me isn't.
I lie awake at night, aware of the fear,
Seeing it out of the corner of me eye,
Slinking in around the edges, testing the water.
And I know its enormity.
The fear-that-should-be.
This thing that should be towering and thunderous and paralysing.
Maybe it's the drugs.
Spreading emotions like butter.
Smoothing away the sharp edges,
Pulling out the deep spikes,
Filling them in.
Mix a little sugar.
Calm, vanilla sweetness.
A ragged mind, sewed back together,
Over so many chemical years.
Do you even remember who I was before?
And then this other.
Creeping in along my spine.
Always hungry.
Bulbous and binge-eating,
ravenously feeding on all and everything.
Never, never full.
Slurping bone marrow.
Building me up in its likeness.
Tearing me all the way back down.
I wish I could talk about it.
I'm starving of words.
I so long to talk to you,
And I know I could,
I know I could say so many things,
If you could just say something first,
If you could just give the gift of a couple of words.
I can't get past it, this wall of silence.
Can't breach it, can't scramble overtop.
You reach for me with your fingers.
You think it's enough.
But it's not.
Picture credit/discredit: author's own work