Symbiosis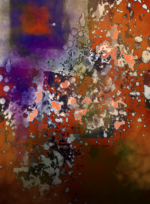 Fri, 16 Oct 2020
I will give to you my red heart,
If you will give me your dark soul;
I know that you will not be perfect,
I will bruise myself on your freedoms,
Be cut against your sharp edges.
And I know my flaws will cleave to you,
They will clot around your uniqueness;
Without meaning to I will change you.
But if I feed you, can I keep you?
I promise a lifetime of blinding obsession,
I am well-versed in passion.
But I can promise as well that I will always have your back,
Thick or thin, rain or shine;
And I can promise that we will grow old and soft and warm together.
Picture credit/discredit: author's own work