The last day at Hill Cliffe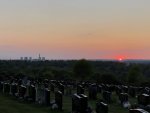 Sun, 19 Dec 2021
2 likes
Everything is open now, here in the twilight hour
This is our forever moment and how do I speak for us now? 
How do I tell the world about the times we spent
Surfing the slow time of dreams?
And your face is turned away from me
to a pallor, a sterile scrub.
A world that took our starving heritage 
And told us, "this does not matter".
What is matter anyway?
The atoms of cells in your skin,
The stories you told me, here in the twilight hour
Where everything once open is closed.