Toy Explosion …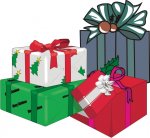 Thu, 06 Jan 2022
2 likes
… at Christmas …
So many toys sold –
away with the old!
Hide them from view,
make way for the new!
Presents in droves,
shortage of shelves,
tuck some away,
change over some day,
sell some from before
display the new-more.
Are there children in need? –
our toys seem to breed!
some we'll take down
to charity shops in town.
Some new soon neglected
confusion, rejected:
instruction complications
need some adult explanations
or a puzzle too hard,
they soon discard.
[IP: New Beginnings]