Supervillain Scheme No. 122 (Part 2)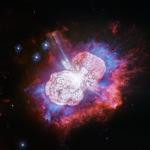 Sun, 23 Jan 2022
...the story continued.
It was the day of the supervillains' descent onto Planet Earth, and superheroes had their hands full, just as planned. The superheroes who weren't just outright brawling with the supervillains were left overwhelmed or just scratching their heads over what the others were doing.
Supervillains were given great leeway in devising and executing their world-destruction plans. Even when, occasionally, they contradicted themselves—such as Mr. Fire who tried to stop all rain so that he could set the world on fire, and then Mistress Rain who was trying to flood everything.
About a dozen or so supervillains launched heavily financed fascist campaigns within various governments, and they were immediately catching a massive following within their constituents. Captain Freedom—a superhero who had gained some trust among Earthlings in his efforts to spread and preserve Democracy could hardly take down all of them at once.
The Evil Baker turned all cookies into flesh-eating monsters, but the superhero Sweet Tooth was too busy chowing down on flesh-eating danishes that had been unleashed by The Pastry-Maker from Hell.
Then there were the lesser supervillains whose world-destroying plots hadn't made it out of the workshop phases, and it showed. Moth-Man's plan to destroy the world was to fly into art museums armed with knitting needles and poke holes into priceless paintings. There was also The Inflator who went around movie theaters and sport stadiums covertly increasing the prices of snack foods.
Then there was Johnny Zoology whose nefarious plot involved implanting microchips into the brains of beavers and giving them the insatiable desire to chop down every tree in sight. The flaw being that beavers were pretty much already hardwired to do that, and the brain implant did nothing to alter what was already limiting beavers from gnawing down every tree in sight—that is, their jaws get tired.
All of this distraction was keeping The Headmaster's operation completely out of sight. His efforts to bore a tunnel through the Earth's core went without a hitch. They found a secluded spot in Siberia to do the drilling, and the bombs were planted in the center in only 20 minutes' time. As soon as he was done, he sent the signal for the supervillains to quickly get out of the way to their safe zone—on a spaceship, beyond the moon.
Just when the superheroes were getting that sinking feeling in the pits of their stomachs that something horrible was about to happen, which had caused their supervillain foes to suddenly retreat, the world exploded.
It was a spectacular show. The Earth imploded at first, as though for a brief moment it was getting sucked into a black hole. And then suddenly it exploded like a supernova—sending rays of light, rock, water and lava in every direction.
The Headmaster stood in front of the panoramic windows on the bridge of his spaceship, Miss Valentine by his side, and his supervillain faculty and students gathered behind him. The Headmaster clasped his hands and rubbed them together. He then gave the most elated laughter of his life. He was such in a celebratory mood that he had the impulse to grab Miss Valentine by the waist and kiss her on the lips. But he quickly realized that he better not. That kind of thing was frowned upon—even at Supervillain U.
The Headmaster gazed happily upon the blank space where Earth once stood—rubble now pelting his spaceship windows like hail. 
He sighed happily. 
He finally succeeded. 
The Earth was no more.
~*~
The next morning, The Headmaster leaned back in his chair with closed eyes and a satisfied grin on his face when there was a rap on the door. It was Miss Valentine.
"I thought you would want today's paper," she said, plopping down a copy of The Globe on his desk.
The Headmaster, still in a state of uninterrupted bliss, thanked her before realizing suddenly: Wait, if the Earth is destroyed, how could there be a new issue of the newspaper?
His eyes shot wide open and he grabbed it, clutching it with both hands. The lead story was a nice human interest piece about a charity that lent cats and dogs to Alzheimer patients. The Headmaster lost himself into that story for a few seconds, letting out a warm smile as he gazed at the color photograph of an elderly woman with a cute calico cat sleeping in her lap. But then he joggled his head back awake and scanned the front page all the way to the very bottom—below the fold. He saw the headline: Planet Earth Survives Its 122nd Annihilation Attempt. 
Within the article, there was an illustration that showed the existence of many duplicate Earths that were scattered around the universe. What The Headmaster and his class of Supervillains actually destroyed was just one of hundreds of decoys. The article went onto quote Wonder-Man, one of Earth's most popular superheroes "We had this defense in our back pockets for years. This was one of our most advanced, top-secret defenses that we've ever devised here at Superheroes University. And frankly we were stunned those nefarious evildoers at Supervillain University got their acts together well enough for us to find the occasion to pull it out. I mean, keep in mind, the last guy they sent to destroy Earth was a lizard who tried to evaporate the ocean just by looking at it."
The Headmaster huffed and plopped the newspaper down on his desk.
"Well at least we're not playing second fiddle to a dead dog this time," he said.
"Are you sure about that?" said Miss Valentine, pointing at an article above the fold, next to the featured story, titled Pop Diva Clones Pooch, Names Him Bubbles II.
"Well that figures," he said, crossing his arms. He sat there for a few seconds in silence before Miss Valentine interrupted him. 
"Headmaster?" said Miss Valentine, breaking him out of his daze. "By the way, you have a visitor: a student from Supervillain High School on a college tour."
"Oh," The Headmaster said, shaking himself awake. "What does she call herself?"
"Lil Miss Label," she replied.
The Headmaster rolled his eyes. The cutesy supervillain names the kids were coming up with these days were starting to get his goat.
Lil Miss Label was was a little girl with a cute nose studded with freckles and blond hair that was done-up in braided pigtails.
"Lil Miss Label," said The Headmaster, respectfully, masking his scorn over her choice of supervillain name. "I hear you are interested in attending our institution. May I ask if you have any ideas to destroy Earth?"
The little girl's brown eyes brightened up, as she loved telling anyone who would listen what her plan was.
"Do you know how hand sanitizers on Earth advertise themselves to be 99.9% effective against germs?" she asked.
"Yes," The Headmaster responded, then giving her a bit of a blank stare.
"Well, I have a plan to pitch to the hand sanitizer companies a more cost-effective way of manufacturing their product. I'm going to tell them the formula is still 99.9% effective against germs, when actually it'll be only 99.8% effective. Every once in awhile there's going to someone out there who gets sick when otherwise they wouldn't have. And it'll be all because of me!"
The kid then gave a maniacal laugh for about two minutes, and it was near perfection. Clearly this kid was an A-student in Maniacal Laughter Studies, a required course in the supervillain high school curriculum.
"Kid," The Headmaster said getting up from his chair and extending his hand out, offering a handshake. "You have a bright future ahead of you at Supervillain U."
Then The Headmaster and Little Miss Label proceeded to laugh maniacally together for the next two minutes, and The Headmaster enjoyed himself immensely.
Image courtesy of Wikimedia Commons