I Am a Celebrity, Get Me Out of Here. Part Three.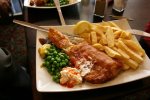 Sun, 30 Oct 2022
Then just like that, it was the penultimate day. It was me Hal Claire and Lydia still left in. I had not lost any more weight, for I had eaten all that I could, the good, the bad, and the ugly.
The hosts had asked, us all that morning, "What would you like to eat and drink for your dinner tonight." It was like a dream come true. I chose fish and chips with Fanta orange pop, not diet.
At work when we had Christmas meals out, I did not usually go, as I did not want to go out with a certain person that I worked with, for it was bad enough working with that person I did not want to eat out with them too. But tonight, I did not care, that she was there, for I knew after tonight, I would not see her again. All the others I would be more than happy to meet up for a drink and a meal.
I went to bed, full and happy, knowing that we four had £10,000 and the winner tomorrow, by votes from the people of Australia would get another £10,000.
In the pitch darkness I prayed in sign language with my voice off, "Thank you Lord for a lovely day, that I have made it to the last four, you already know who the winner will be."
The next day, the hosts Ant and Dec, asked us to, "Follow us this way." In this opening, the fellow contestants, were already there seated. It was lovely to see them all again. There were four weaved basket chairs for us to sit on. I could see a bigger chair it too was made of weaved basket but it looked like a throne.
Dec said, "The winner of this pilot mini-series, is you Maxine Jasmin-Green." I burst into tears. I could not believe it, Ant came over to me and took my hand and led me to the throne, there Dec gave me a bamboo sceptre and he put a weaved straw, circled crown on my head with beautiful pink flowers in, all around it. Everyone clapped and cheered, I replied. "Thank you all."
I was then taken to another part of the jungle, opening where Ant and Dec, interviewed me. There was on the table in front of me, a cool, orange Fanta drink. I took a sip, as they showed me, on a tv screen, "The highs and lows of my time in the camp. It was then that I realized that everything I had signed in the pitch dark, in British Sign Language, had been seen my all in Australia! I was shocked. Dec said, "A lot of the Deaf in Australia have voted for you, and millions more, who now would like to learn sign language, they too voted for you." I said, "That's great, I think I had better now go back to college, to learn it officially and get a certificate."
Ant said, "The organisers, have decided when the official programme does go out in a few years from now, none of the lights will go out at night, they will all stay on."  I was pleased about that, for things always seem worse in the dark.
When I got back home, Deaf people in the streets would come up and sign to me, because of my time on the telly, I had made people deaf aware, and many hearing people wanted to learn sign language. I tried to promote that the A-Z should be taught in every school, so that children would be able to at least communicate with a deaf person if they met one.
I won the £20,000 prize and we paid all our debts of £17,000 to the loan sharks. The rest helped us to stay on our feet. When people would find me on YouTube on the mini-series down under, I would get invites to events, and with that there would be a fee. I have had reunions with the other contestants. I did not see Lydia again.
I dedicate this to Wendy Boston, RIP.