I awoke today. A Physical Sense Gone, How Did I Get Here?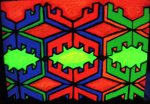 Wed, 17 Feb 2016
1 likes
Today, like every day, fades in and fades out.
My mind wanders and I am lost in a thought.
A thought I keep thinking.
Something I am unsure of,
yes that is most all things that I think about.
In the mirror I see someone that I don't know.
Looking right at me,
sizing me up.
There is no conclusion as to this dance of delusion.
When will there be more than just a place I now hold?
In my dreams I am familiar,
in fact I can do anything.
I have life that is going,
people I'm knowing,
and everywhere seeds that I'm sowing.
Confident and sure of every step that I take.
With my eyes open I see someone that I am sure I knew once.
I feel no longer a friend, or a brother.
There is not much sensory stuff in the world of the "other"
... well unless you factor in chilled moments of insecure fear.
The white noise of people stepping into the loneliness sphere.
In the distance,
between a life all but forgotten,
and the thing it has become.
A revolving door of silently not giving a fuck,
is too tightly shut.
Music it haunts me.
A faint memory,
like a ghost of a lover that dances more than just once.
A thing that blasts through my mind as though it were real.
The song that is on repeat and is as fitting as fuck,
"Comfortably Numb".
Why has the soundtrack become rock music with words.
I am buying a gun.
I don't plan to live life with a laser show that appears,
at random in my world here and there.
What has been done with Claude, Sander, and Tiga,
the vision of what once was,
of what should be.
 
I look here.
I look there.
All that I see is just junk strewn all about everywhere.
In ever nook.
In every cranny.
Useless junk,
not a single thing of any value.
Is having no thing of value equal to being worthless?
In a world isolated from even myself,
a world covered in the ash and dust of chaos and fear.
Fragments of dreams shattered here and there.
A piece of a memory nearly large enough to remember something.
Not enough fragments remain,
on the ground,
or in the air to stir a memory of more than nothing.
These four walls,
this place,
the shelter it has become.
Welfare is not a thing,
an idea,
or something that humans dream of.
Compounding a condition,
disabling at best.
Going without,
getting by,
making the best of what is allowed.
When you feel nothing,
forget what life is.
You forget to miss things being lost in a void.
Life lived or avoided?
An average household has more paper,
budget for entertainment alone,
bigger than the SS bone.
Sound like moanin' and groanin'?
Just the fact,
that's all.
I got what I need to exist.
So much as a breeze this house of cards,
without warning,
could suddenly fold.
Nights for the "other" already spent in the cold.
I wish I could just flip it all around,
sleep with the dreams of a reality that makes deafness less profound.
What happened here?
Did I simply give up?
What was the catalyst that is the cause?
Life and everything in it just flipped upside down?
Did I do something horrific?
Something that gave God no choice but to make me a contestant,
in a game of "Sensory Press Your Luck".
What the fuck?
Living the dreams that I awake from in this space of time,
the frame of existance,
life,
passing by.
Experienced a placeholder,
a void more or less,
something representing something that once was.
Now going through time,
wishing for the end.
Doing anything and everything,
hoping to find something.
Something that will feel like living,
and that my name is Ben again.
If only for a day,
a week.
Fuck,
just long enough to show God,
I can do more than just fill these shoes.
But please God,
can you give me a little warning?
 
3 to 5 years they say,
that is when hearing through a magnet,
begins to get a little clearer.
I can't imagine even how,
or where to even look.
For someone that is a bit robotic,
is being less than happy,
something almost like a win?
Maybe if there was someone inside,
someone to answer the call,
someone, anyone, anyone at all.
Hope not,
want not,
lonelyness,
the friend I recognize.
Eremophobia has become such a close friend,
more than simply a word,
certainly not a fear.
Just like Acousticophobia,
Agateophobia,
Allodoxaphobia,
Anuptaphobia,
Athazagoraphobia,
Catoptrophobia,
Eurotophobia,
Ithyphallophobia,
and Sociophobia.
These are the kinds of things that I recognize.
I suddenly lost my hearing 3 years ago over a 3 day period. I am a cochlear implant user now and my life is completely different in every way. This is a new way I am trying to embrace the new world my life has become. A way I can hopefully release some of the feelings that cause my unhappyness to feel as if it will never end.
AUTHORS NOTE: THE MOST IMPORTANT THING ABOUT SHARING MY WRITING WITH OTHERS IS THE
HOPE THAT I WILL GET FEEDBACK FROM THOSE WHO READ IT. LOVE IT OR HATE
IT, CRITICIZE IT, RIP IT TO SHREDS, FEEL SOMETHING FROM IT, IS IT
RELATABLE TO ANYONE OUT THERE? I WOULD JUST LOVE TO KNOW THE TRUE RAW
THOUGHT THAT FILLS YOUR HEAD. THE FEW REAL PEOPLE THAT I SEE, SUGAR COAT
EVERYTHING. I BEG TO FIND REALNESS IT HAS BEEN GONE FOR SO LONG. PLEASE
IF YOU READ ANY OF THIS SHARE A WORD OR A FEW. PLEASE. AND  MOST OF
ALL  THANK YOU........
££