Castle Pillock 5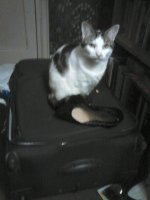 Wed, 29 Jul 2015
Genes are funny things.  In my twenties and thirties, before I had kids, my idea of a good holiday, either at home or abroad, was staying in a small local hostelry in the vicinity of lots of old ruins.  Bugger Lugs (the ex) and I once sat and watched the sun rise over Knossos, and went into raptures in a museum when we saw fragments of Mycenaean Linear B script.  Well, Michael Wood had just been on telly with his thing on Troy, and I had just discovered feminist lit crit and semiotics.  Writing the body.  My vagina is my pen and my menstrual flow my ink.  I wonder how it goes now we have external hard drives. 
Anyway, between us Bugger Lugs and I managed to produce a daughter whose idea of a good holiday is Sunny Beach, Bulgaria.  I hadn't heard of Sunny Beach before she booked it and friends started looking at me in horror.  Apparently, Sunny Beach makes Magaluf look like a Trappist retreat.  Sun, sand and syphilis, all while bombed out of one's head on Walter White's finest. 
My baby!  My little princess!  My drop of purity in the filthy swamp of life!
'Ofergodsakemum,  I'm twenty.  You're as bad as dad.'
'Am not.'
'You went travelling when you were sixteen and Nanny and Grandad didn't even know where you were.'
'That was different.'
'Yeah, it was.  You were roaming round Amsterdam and Paris with complete strangers.  I'm with Hayley and Tammie on Thomas Cook all-inclusive  with a tour rep behind every sun lounger.'
'Yes…but…'   
But you're my little girl. 
My little girl went to Ann Summers for two new bikinis.
'Oh.  I didn't know Ann Summers did bikinis.'
'Got them in the sale.  And look, these two bras, and these thongs…a real bargain.'
'Oh.  You don't normally get your undies at Ann Summers.'
'Ofergodsakemum.  It's hardly Fifty frickin Shades.'
'No.'
I decided we needed to have a talk about drugs.  Not the usual talk about drugs.  The talk about what Walter White's finest might do to epilepsy medication. 
'Ofer – I'm not completely stupid.'
'No, but, it's easy to get swept along…'
My daughter took a deep breath.  'Mum.  Just about every week I have at least one night out in town.'
'Yes, but, it's…'
'What do you think goes round in the clubs in town?  Smarties?'
'Oh.'
'I could probably flog my epilepsy medication if I'd a mind to.'
'Oh – '
'Mum…'
The thing is, unlike her brother, the princess has not yet lived away from home.  I am firmly of the view that neither you nor your offspring can grow up properly while they live with you.  You don't really go to sleep until that giggling lump of bonhomie has tripped its way over the threshold, and they still expect you to know, by some psychic process, that they've eaten the last cornflake.  I am more laid back than many mothers.  I could not care less if they don't make their beds.  They've got to sleep in them.  Getting up close and personal with an iron is forbidden by my religion.  Whoever eats the packed lunch, makes the packed lunch.  I do not rustle up a cooked breakfast for any Tom, Dick or Mildred who emerges from their bedrooms on a Sunday morning. 
Still do them stockings at Christmas, though. 
My son lived in London for over four years and I had no idea what he got up to.  But during the time he was living back at home – it was bloody sleepless nights again and the daily conversation:
'Are you in for tea?'
'Dunno.'
'Well shall I do you tea or not?'
'I'll let you know.'
'When will you let me know?'
'Dunno.'
Bugger Lugs popped in a couple of days before the princess was due to go.   She and I had manoeuvred The Case down from the top of the wardrobe, removed the beach towel that was still in it from four years ago, and it was in the sitting room airing out before packing. 
Bugger Lugs has views on packing, as he has views on most things.  One of his more reasonable views is that you should not let your moulting cat snooze in your case before you pack it.  However, there are ways of voicing one's views.
'You need to keep this door shut so that cat can't get in while you've got the case in here.'
'She likes it in here.  Her basket's in here.'
'It's unhygienic.'
'She's not unhygienic.  Just a bit hairy.'
'You need to keep that door shut.'
Open mouth.  Close mouth.  This is the father of my children.
'She doesn't want to take that case.  It's too big.  She'll be over the luggage limit.'
'It's the only case we've got.'
'You ought to have a smaller one.  What's in that bag? What's she been buying from Ann Summers?'
'Perhaps I've been buying from Ann Summers.'
In the silence, the cat purred.
So, off went the princess, to the horrors of Sunny Beach. 
I'm not sure she, or Hayley or Tammie, ever actually made it out of the hotel complex, but she had a whale of a time.  About fifty pictures a day went on Facebook, most with emoji captions conveying joy unconstrained.  She had a spa treatment.  She did aquarobics and joined a dance group that did routines by the pool every day.  She won a darts competition.  She came third in the karaoke.  She looked great in her Ann Summers bikinis.  The all-inclusive included all drinks until 9pm, so she now has an unrivalled collection of little paper umbrellas.  There is no evidence that she had even the most fleeting glimpse of Walter White's finest.  She has come back with a glorious tan, presents for everyone, and a burning ambition to be the Bulgarian equivalent of a Redcoat.  Her brother is an actor and musician, and is playing his way round the country at a series of beer and food festivals this summer.  Neither of them has the remotest interest in old ruins, or Linear B.
Funny things, genes.