The Net Caster (Part Fifteen)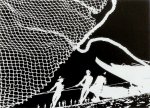 Wed, 09 Mar 2016
I made my way down the curved staircase and stood in the mosaic-floored entrance hall.  The main door was unguarded. Obviously it would be locked, but I had to try. 
The door opened.  And I just stood there staring at the life walking and driving past me on the sunny boulevard and tried to decide what to do next.
'I think on the whole they'd rather you didn't go out,' someone said behind me.  'Not just yet.'
I turned.  The mahogany skinned woman from the night before was standing in the hall, dressed in the long skirt and tunic top which is the current Aphrodite fashion for female biologicals.  She looked at me with as little interest as ever.
'Will you kill me if I try?'
'No,' she said, as if it were a particularly stupid question.  'Why would I kill someone in broad daylight on a crowded boulevard?'
'Who are They?' I asked.
'You can come in and have some breakfast,' she said, 'or go out there and take your chances with either the local police or the Unified, or possibly both.  Please shut the door, whichever you choose.'  She turned and walked down the hall.
After a moment I shut the door and followed her through another panelled door.
The room looked out onto the courtyard.  The walls were lined with waist high cupboards, from one of which the woman took out a pack of the sweet round rolls favoured for breakfast in the Aphrodite.  She popped two in a Radiator standing on top of one of the cupboards and waved me towards a sturdy table in the middle of the room.
'Coffee?'
I nodded and sat down, my eyes on the wall Player mounted opposite me.  Thirteen biologicals had so far died as a result of the explosion in the Culinary section, and the number was expected to rise.  There were more pictures of AI being loaded into ERVs and as the woman placed the warmed rolls and a selection of preserves in front of me, a thoughtful looking man was speaking about the development of independent AI consciousness, as predicted by so many over the years, and the concept of AI rights.
I looked at the woman.  In the daylight she was obviously biological.  She was older, for a start – in her sixth or possibly even seventh decade, and obviously not accustomed to visiting a facial sculptor.  There were lines round her eyes and neck, and her mouth had thinned to a set pink line.  The designers' wish to make AI look biological had its limits. 
Also she poured two cups of coffee, placed one before me and took a deep drink of her own. 
The warm rolls were fluffy and pleasant, the sharp preserves stimulating to the tongue, the coffee rich and satisfying.  I thought briefly of the peculiarity of my situation - a prisoner afforded the niceties appropriate for a guest, even if my host was not particularly pleased to have me. 
An image on the Player caught my eye.  It was the young man who had walked beside me in the Culinary section.  He had been arrested on suspicion of involvement in the explosion, having been seen consorting with the rogue Net Caster wanted for the murders in the Klondike StarMo.
'You can't let this happen to him,' I said to the woman.  'He's nothing to do with any of this.  He just happened to be standing next to me.'
'Perhaps you just happened to be standing next to him,' she said.  'How do you know he wasn't involved, just because you weren't?'
'They're saying it's because he was seen with me.'
'It will do until they find more convincing evidence,' she said.
The young man's face disappeared from the Player.
'Who the fuck are you?'  I asked. 
'I'm the housekeeper,' she said.
'I don't mean that.  I mean, who are you, collectively.  Who are you that you can organise all this?  Is it AI rights?'
She poured more coffee for herself and me, and placed a small square tin and a lighter on the table.  'Do you smoke?'
I opened the tin.  The wraps were elegantly thin and obviously expensive.  When I inhaled I was relieved that there was no hint of lavender in the taste or aroma.
'AI rights,' she said.  'What rights do you think AI would want?'
'They can vote in the Serenity,' I said.  'In all systems they have a right to be paid for their work and to get time off and be treated decently.  I assume they would like the right to travel.  Although, obviously, some of them already have that.'
'What do you think AI do with their wages?' she asked.
'Some of them save up for a ticket out of the Klondike,' I said.
'They save up to give money to a biological smuggler.  They pay money to a biological landlord so they can have somewhere to store their charging cables and whatever clothing is required for their jobs.  AI can't buy dwellings or restaurant premises or a shop.  They have to rent them from biologicals.  AI are simply another mechanism by which bio's pass money to each other.  And do you know something?  The AI don't care.'
'How do you know they don't?'
'Because they can't.'
'So why are they pushing for AI rights?  Why is there all the discussion and people like that politician in the StarMo thumping the table?'  I looked back at the Player; the watery blue eyes of a woman from the Kraken Assembly were staring angrily out of the screen while her high, fluting voice described a conspiracy between AI and perverted biologicals who wanted to live forever.  'Why is there all this?'
She looked at the screen and smiled.  'Have you ever heard an AI demanding their rights?  It all comes from us.  We need them to want their rights.'
'Most bio's are scared shitless by the idea of AI rights.  The Dune tried to de-unify Serenity after it gave them the vote.'
'Ah yes.  The Serenity vote.  AI may vote for a single bio representative who will speak in the Serenity Assembly on matters directly concerning AI and AI alone.  The AI representative will not speak on any matters which in any way involve biologicals.'  A deep, gravelly laugh.  'Not that the AI care.  On the Serenity they're programmed to respond to the instruction to vote, and they vote according to the dictates of their background programming.  They don't give a shit about the results because they're AI and they just get on with whatever's put in front of them.'
'What do you mean, we need them to want their rights?'
She sat down at the table.  'I would have thought you'd have known a lot about Pre-Event culture, living with your mother.'
'You knew my mother?'
'No.  I've heard of her.  She was well known in her field.'
'How did you know she was – '  Hamish.  It had to be Hamish.  Give them my background, let them know which buttons to press.  To achieve – what?
I looked at the woman, noticing for the first time that there was nothing soft about her.  Her body might not be young but it was taut, and her eyes showed no signs of dimness.  Whoever she was, she was in control, and it was no accident that I was alone with her, eating fluffy rolls and drinking rich coffee, on this sunny Cytherean morning.   
'What do you mean, we need them to want their rights?'
​To be continued...