THE BRIDE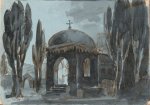 Mon, 05 Feb 2018
Tonight I will not look out of the casement window. I will sleep, sleep soundly, I will dream, dream sweetly, I will wake, wake refreshed. It is midnight: the tower clock will strike twelve times. 
One. I am out of bed, like some puppet jerked by an invisible string. I rush across the room and  unlatch the window. Leaning out as far as I dare, I peer though the gloom. 
Two. I see the yew trees, the graveyard, the headstones and the Chapel, where the Lord and Lady of the Manor say their prayers. O God, forgive my Lord, my husband, forgive me, his Lady.
Three. And now, in the porch of the Chapel, I see a pale, motionless shape; I see her. Night after night she appears, yet that first glimpse never fails to make me shudder with fright.
Four. Suddenly the moon appears from behind a cloud. She moves into the light - a lonely and lovely bride, her face hidden by a veil, a gown of ivory lace, satin slippers on her feet. 
Five. Slowly she makes her was across the graveyard. She is heading for the lychgate and the path that leads to the Manor, my new home. I stare at the dark stain on her bodice. 
Six. She creeps a little nearer; she is at the lychgate. Every night she seems stronger than the night before, every night she becomes more daring. She has never advanced this far, or this near.
Seven. Now she is through the lychgate. I know it is locked but she is through. She walks up the path to the Manor, the heels of her satin slippers tapping on the cold stone.
Eight. She approaches the steps to the Great Hall Door. A dagger! She is clutching a dagger. I recognise the hilt encrusted with rubies. Alas, the owner of this dagger is well known to me.
Nine. She lifts the dagger high in the air. The steel blade glimmers in the moonlight; the rubies are dazzling - red like wine, red like fire, red like blood. The moon disappears and darkness returns.
Ten. She climbs the steps to the Great Hall Door. I hear her - tap, tap, tap. Ten steep steps. A double door of solid oak. It is locked and bolted but what use is that?
Eleven. Where is she? Is she within the Manor walls? Does she walk through the Great Hall? Does she climb the stairs? Is she searching for my chamber? Is she hunting for me? I wait.
Twelve. Silence. The tower clock, just now so loud and close, is silent. As the clouds drift over the night sky, the moon reappears. In the Chapel graveyard all is peaceful ... at least for now.