Boudicca
Image: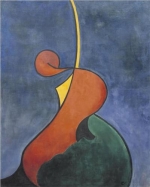 Tue, 13 Nov 2018
1 likes
Boudicca
By A.D Hunt
Her star-bright eyes shine boldly defiant, 
A banner cry against hard frenzied fists;
Who belong to the hands of a wild tyrant, 
A cold eternal one from the mists.
There her eyes shine: and here do they linger. 
Releasing a smile on my rusted lips;
I trace their shape with delicate fingers, 
Feeling their light, how my soul does eclipse.
And though we are, by times curse, far parted,
Divided by a season and-a-day, 
I will be as defiant, and unbroken hearted;
A reformed soul made in reshaped clay.
Her star-bright eyes shine brightly thereafter, 
From death and decay: this worlds' terrible end. 
But though this world dies, these eyes they will linger;
To be born, re-born, re-born, and reborn again.
© Adh 2018