Visiting the Old House at Twilight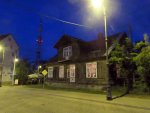 Fri, 03 Dec 2021
2 likes
Back to the city we fled from and visiting by coincidence,
a decade after flitting,
we feel like burglars in reverse,
trying to steal from the outside four walls
 foreshadowed by the feeling night,
whatever imprint our collective fallen apart
family left behind.
Sadness like ivy wreathes unseen
on the outside, and further in,
the imagined wallpaper of strangers
we let unpeel in reversed triumph.
We allow the home to breathe in
our shadows as we watch outside,
a sensed lament as some strange family
that has displaced us sleeps inside,
where we once lived and deserted.
We wait sentinel, my son and me,
outside for just this night,
as if it was a duty of remembrance,
waiting for the old house to say
it has fogotten us.