Game Over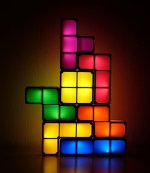 Wed, 13 Oct 2021
2 likes
I was Tetris; every
touch, kiss, fuck,
was a piece that was
supposed to fill
the black bits
between the colours.
I pressed the buttons,
a mouth would come,
I would come,
kerplunk, the pieces fell,
snug against last week's
blocks, already half forgotten.
Piece after piece, kerplunk,
that one missed, left a black
opening the shape of a witch's
silhouette. Oh mercy,  I said,
there's so very little space left, 
I am nearly at the top.
It was in a pub garden that it 
flashed 'Game Over', the bright
coloured pieces dissolved over
the horizon and all was just 
blackness once more. I don't 
need to play this again,
I smiled and took a sip of 
the palest of ales. Such a game,
it all felt so real, it all mattered so
much, yet, here I am waiting for
no one, no colour to fall from the sky,
no blackness to wake me each night.