Mud brothers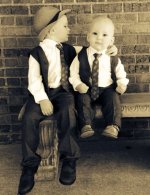 Sun, 18 May 2014
Fast to our knees in the goop
we struggled and drowned
as the mud slid down and the walls collapsed 
and our rifles jammed and the sounds of panic
echoed around us.
In our stout boots
our feet shrivelled white, soaked
till the rot of the flesh fell
from the agonised bones and the toes
turned black from the frost
and dropped off to meld 
with the stink of our socks in the grime.
But the rains weren't sufficient
to wash away filth and the stench
of our waste, the decaying of corpses
being devoured by hoards 
of marauding rodents - brown and black
who grew fat on the fallen
in the mud and the blood 
and the shit and the sweat and the boredom
on alternate days of bravery and fear
in the misery of the trenches.
My brother and me wrote home
to our mum - still clinging to hopes
of her babies' return -
dreading a telegram, knowing
one day it could come. Whilst we
in the mud and the shit and the sweat 
and the blood scratched at the lice 
and the mites, the scabies, and swatted 
the swarms of flies that plagued us
as much as the enemy did. 
We were deafened 
by deadly explosions - shell shocked 
and gibbering - labeled
and punished for cowardice.
   
Brave and afraid we went over the top,
got shot, or returned 
to the misery of mud; survivors
awaiting the whistle to signal
whatever our fate would dictate
for the sake of our countries.