Breath of Alex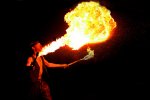 Sun, 12 Sep 2004
He had fire behind his eyes. Red raw and bubbling orange, a spicy
spreading glow that often warmed the back of his head, a furnace blast
of energy reaching to the tip of every black curly hair.
By day, he was a man you might see in a coffee shop, reading the
Guardian whilst absentmindedly stroking its soft yet dangerous edge,
and resting his elbow in a puddle of coffee. He lived for moments like
that, when he didn't have to look around. He would often forget about
the fire with its ferocious appetite at these times, although somewhere
he was always aware of its embers, still glowing, the red darting round
like an orgy of fleas held inside his skin.
He was a lonely person. He lived in a bedsit, often sitting up late
into the early hours, fascinated by candle flames and repeats of
'London's Burning'. He would smoke cigarette after cigarette, lighting
one off the other, holding them before his eyes in an attempt to
understand how such a deadly assasin could live inside him without
destroying him. He felt pangs of identification with his dead
relatives, burned to a soft grey nothing.
One evening, after softly caressing several pieces of paper with lit
matches, lusting after the sudden flare each time, he realised that he
felt distinctly empty. The fire was still there, he could still feel it
behind his eyeballs, licking at his sockets. But there was something
else. He gradually realised, through the immense silence of the room
save the occasional bus or car, that he had stopped breathing. As soon
as this realisation presented itself, he immediately struggled to
breathe in, in a panic, then found he could not. He did not know how
long he had been in this state, this fixed wooden existance, and
couldn't even begin to consider why. He found he was able to breathe
out, so did, slowly and cautiously, trying to calm down. It would seem
he knew what would occur. He did not, and shifted bodily in shock as a
thin stream of flames passed into the air in front of his face, like
white hot invincible cigarette smoke. He found he could breathe in
again, and did so in relief, not yet ready to think over what had just
taken place. Again, but this time two burning conical towers in the
air, scorching and malevolent - he had breathed out of his nose, not
contemplating the notion that the phenomena might occur again. He tried
to steady his breath, succeeding, so that only small tails of fire
trailed from his lips. He could still feel the fire behind his eyes: it
was in no way going out, or even diminishing. He decided that if he
could inhale, vastly and quckly, the sudden blast of air would
extinguish the bonfire in his lungs, throat, wherever. He tried. It
didn't work. This time, he relished the almost ritualistic breathing
out, feeling a certain pride at his sudden talent. He thought that he
might have a little fun before trying to resolve the problem, picking
up bread and gingerly cooking it with one blow, turning a handful of
old marshmellows found in the back of his cupboard to a melted and
cloying sticky mess that clung, undignified, to his fingers. He lit all
the hobs at once with a single sharp exhalation. He giggled as silly
headlines describing his status came into his mind - 'arse-nist',
'phew, what a scorcher', 'he is HOT!'
Finally, bored of frivolity, he sat down again on the edge of his bed,
to try and summon his normal breath back. He kept breathing,
controlling himself, concentrating on keeping the fire in his head, but
still he spat out rolling waves of orange and, occasionally, a little
smoke. He drank some water. It did not put the fire out. It kept
coming. He considered wrenching the fire extinguisher from the wall in
the corridor, but when he checked it was foam, and he definitely did
not want to poison himself. He remembered that he hadn't tried a fast,
full exhalation, hadn't tried blowing all the fire out of him. With
little hope and already thinking of the next thing to try ('eat wet
tissues?') he breathed in wholly, slowly, then let all the air inside
him go, rapidly, and very hard. An enormous jet of fire sped from his
mouth, at least two or three feet long. He blinked, bewildered, as it
detached itself from him completely, and then started to change shape,
growing slightly larger and forming a much more vertical mass. He had
breathed out a woman. She smiled, talons, mysterious, and from him. Red
and perfect, with tumbling locks of flames.