The Adventures Of Miniator --- Chapter 4 Swing Blood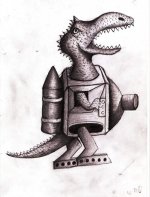 Thu, 18 Nov 2021
The Adventures Of Miniator Chapter 4) Swing Blood
Swing Blood began his daily hike around his tiny island. Which he called Blood Clot. Everyday he would comb each of the ten beaches to see what he could find, and climb every headland to scan the sea for ships with his spyglass. This would take him about four hours.
In the two years he had been marooned on the island, his best find had been a casket of Jamaican rum, of which, he rationed himself to five swigs a day, taken when the sun went down. He had also found a large square of sail canvas, from which he had made a sunshade for outside his cave, where he slept in Summer, and a wind breaker for the entrance for the hurricane season, and articles of simple clothes. And he often found twine -- to make nets for fishing, and building traps, to catch rabbits to eat and use their skins, and from which he had strung a simple bow, and made arrows with his knife, but to date he hadn't managed to hit anything with – and a coil of rope he used to tie things together.
His life on this poky island was raw and narrow... Those blighters who had tricked his Captain, robbed him, and taken him with them, when they sailed away, and left Swing to die here, were the most heartless of creatures.
He had recently realised he had begun talking to himself, just to hear his own voice. He never thought he could miss people so much... onboard ships, with just the crews to talk to, he had often wished for solitude. Now he yearned for any kind of talk.
He would spend the second part of his days fishing, or picking up edible shellfish from around the rocks, and checking his rabbit traps. He was lucky he had his tinderbox and his glass lens to make fire, so he could cook and keep warm.
He had seen many ships pass by on the horizon. Two ships had anchored in the bay and put men ashore. One, from an English man-of-war, who he avoided like the plague; he didn't want to spend the next years of his life forced to fight wars against the French or whoever... he had already lost an eye in battle – he touched his black eyepatch in memory – or they might just throw him in irons, as the pirate he had been. So he had hidden himself, and watched them as they had moved inland and found the waterfall – from which he himself had found – and barrelled a lot of water before leaving.
The second ship was a cog; a small warship that flew a Spanish flag... a group of six men came ashore, heavily armed with muskets and pistols, and began hunting. Shots rang out for hours. He was so afraid they would find his cave and his traps, and begin hunting him, but they returned to their ship before nightfall loaded with rabbits.
He dreamed of his rescue! But how it could come about he was unable to imagine. He would possibly die here...
Today, on his daily hike, he climbed to the top of his second headland, and was shocked when he saw a fine looking schooner sail into the bay. He quickly threw himself on to his belly, so not to be seen, and took out his spyglass. It flew a strange flag with the symbol of the head of a green dragon. It then sat in the middle of the bay. Yet the sails remained full... how could that be? full sails would drag any anchor. He scanned the length of the ship, but saw no crew... he scanned it again... still no one to be seen. This was odd, it took work to navigate into such a bay.... There must be some one on board...
As he pondered this, he caught a glimpse of something shooting up from the deck, it flew as fast as a cannonball, into the sky, so fast he couldn't make it out. He tried to follow it as it passed high over his head. Was it a bird? He turned around quickly to try to keep it in view, but it quickly vanished to a small speck. He turned his attention back to the bay, but to his shock, and sheer disbelief the ship was also not there. It had simply vanished into thin air... He got to his feet and spied the coast. Nothing! He was totally disoriented! How could it have moved so quickly? Had he imagined it? But no, he had seen that ship... he had scanned it twice. Was it a phantom ship like those the old Jack Tars always claimed they had seen? Ghost ships that were doomed to roam the seven seas. His body turned cold! Was he going mad! Was it because he had been alone for so long? Is this what happens...?
And that thing...! whatever it was! Too big to be a bird... too fast...
He turned again inland to see where it might have gone. His spyglass searching... his brain straining.
There! a distant dot racing across the sky! He took up his spyglass tried to focus on it, which was difficult. Well, it was no bird, it had no wings, that much he could define... but it had a tail! It swooped down behind the distant tree line. Then he saw a second larger object moving even faster, a strange shape, he couldn't possible describe...! It stopped very suddenly in mid air. It hoovered for a few seconds above the trees, where the smaller object had disappeared, then very slowly went down behind the treeline.
'Well', said Swing Blood, 'What do you make of that? What does it all mean, and what is to be done?'
Rather he was absolutely mad, or he had the strangest of visitors to his island.. He was afraid of both possible answers to this question. But he set off in the direction of where those two objects had gone down, determined to find out...