Britain 2020
Image: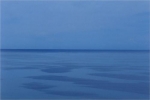 Fri, 17 Jul 2020
On the beach at Ingoldmells in Lincolnshire,
where we went to a caravan, because foreign holidays are cancelled.
From 'Ibiza to the Norfolk Broads' –
the Brits can enjoy their holidays, even at home,
when foreign places are closed to them.
We know the lockdown is finished,
When we can all rub shoulders in busy streets outside Fantasy Island,
Family groups, cool teenagers, and enthusiastic dogs.
The beach is surrounded, by caravans on one side,
The sea on the other.
Out from the shore stand white windmills, standing tall.
They make the scene far less natural.
We have to get used to our new friends the windmills.
They are like our offshore guardians,
Dissuading us from swimming or sailing across to the Netherlands and Europe on the far side.
We are a part of a factory:
The consumers who spend the money they have earned,
While working in our complex multifaceted economy.
They are the new statues, to replace the old ones, smashed up,
And herded into museums and store rooms around the nation,
As our embarrassing past is hidden away and forgotten,
Rusting like the old factories and steelworks,
Buried under old slag and modern landscaping.
On social media the people of middle Britain seethe with indignation,
as rumours of their threatened culture are raised with increased regularity.
Every day brings a new threat as some precious corner of culture,
a joke or a traditional pantomime,
a black faced minstrel, once so popular,
is told to shut up shop and reform.