How To Keep Life Real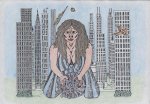 Mon, 27 Nov 2017
We construct lives of fantasy around us. I write a long story about a better life, a place I would like to live in, where people are really free and can really express what they are, where every day is a big adventure.
Ladies who make themselves the worshipped ones, the shopper for perfection, the image of better than the neighbours, cleaner and better equipped households. All the money to impress the world, but is it real? Escapism takes us all from reality.
We go to the comfort of our televisions, our books, our films, ignoring the lack of money in our pension plans and the risks to our lives, which we blindly take in our forgotten expenditures and our one off greedy decisions.
The jobs might not last. We should try harder in the directions we are suited to. We should anticipate and plan, constantly reviewing our present, our past and our future, switching to the safest path, or the path of greatest possibility, following the probability of success or safety.
But how many of us do that? Most of us just go with the flow, hoping it will all work out.