Isle Of Wight : Day 4
Image: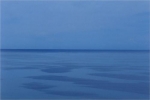 Tue, 05 Sep 2017
Day 4 on the island we go to a theme park called Blackgang Chine.
Smooth skinned yummy mummies and pleasantly shaped grandmas,
Frightening dinosaurs with a sense of humour.
Beautiful blue cloudless skies, perfect turquoise water, and green grass for picnics.
Spread over the hillside above the cliffs and the sea.
Faerie like children and a great looking fairy castle,
(a bit like the one I always wanted to live in).
I say, "This is not a place for adults, but I feel privileged to be here inside a fairy castle."
One of our party bumps his head on a low door/ceiling so I say to him,
"We are lucky to be here, but we must remember faeries are smaller and this is not our place!"
A young girl hears me and agrees, "This is for children who are like faeries, not really for adults."
Agreement and understanding between the generations!
At the wild west town I go in search of Cowgirls, curiously following a sign,
and find myself at the toilets. I end up in the disabled toilet!
How soon can we get round the theme park?
As I remarked, Mrs Thatcher would have said we could do it in an hour.
If the British people could just be a little more productive we could all earn a lot more money.
She obviously didn't take account of nappy changes, milk feeding times or hunger, thirst and the need to sit down on a hot day.
Like all good British family groups we took all day!