Miami
Image: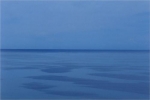 Tue, 18 Oct 2016
Miami
9/10/16
Expensive properties, high rise race, reaching for the sky.
We are on the 14th floor of a youthful modern hotel, the highest we have been on yet.
Have I ever been higher off the ground.
I don't think so, only in mountains.
Islands of the rich, plush houses on little causeway approached islands.
It is too hot to walk far. We go into a corner shop to get cool again in the air conditioning, and my wife buys an ice cream.
The beach is hot and beautiful, peoples of all races or nationalities, altogether in the sun, grilled or fried like the breakfasts.
Beautiful place soon to be left behind as we head off on our Caribbean cruise.
I would not have liked to be up here on the 14th floor when the hurricane came, swaying in the wind like the palm trees.
But the Port to the islands was given an easy reprieve while the hurricane slaughtered Haiti, damaged the Bahamas and wreaked havoc on the coastlands of Florida further north and above.
The fears and panic have gone and its back to business again, tourism barely interrupted.
Sunseeking, entertainment hungry Americans and plenty of nationalities, all thrown together awkwardly on a boat, and yet everyone we bother to talk to is really nice.
Wherever we come from, and whoever we are, we are all the same, members of the human race, sharing our holidays from our crazy always growing modern society.