Spirit of the Age 2 (What Purpose)
Image: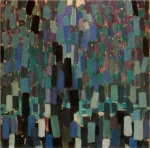 Sat, 15 Feb 2020
Rock Rock Rock,
Ha Ha Ha,
I can feel the fear in the western world,
Our children turned into punks,
Spitting hate and derision,
Creating sarcasm,
Riots and dissatisfaction.
Our children don't know where they are going,
They are busy making solitary solutions.
Into the hands of the planners and the doers,
the go getters and the investors.
Get what you can from the system,
Bleed the last dollar from the working millions,
Make machines to take over everything.
Every man (and woman) is a solitary unit,
In a haze of sensory entertainment.
Who are you? Who are we?
Do you belong to yourself or did the system make you?
What purpose, when everything is done better by robots?
The few humans employed are the most intelligent,
Programming the machines.
No one else understands.