Torremolinos 1
Image: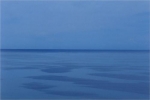 Wed, 04 Nov 2015
Torremolinos 1
1/3/15 (Day 2)
Watching the next cargo of tourists come into Malaga Airport from the sea.
They seem to glide silently, smoothly towards the landing strip, well rehearsed and accident free!
The moon is up in the late afternoon sky, the end of a warm day, like summer, at the beginning of March,
A world away from the cold and rain of Manchester and Sheffield!
We have escaped, like many others from many parts of Europe,
From the winter cold and the drudgery and endless repetition of work!
The south of Spain, Andalucia, where the people of Europe come to escape from the real world for a while.
Retired people come for three weeks, or three months.
Some workers, like ourselves, come for ten days, time enough for a good rest,
Or seven days, long enough for a good break, but never quite long enough.
The couple we met at the pool are here for four days only, nearly up,
not long enough to do much more than sleep and eat the all-inclusive food and sit around the pools,
but it is a total rest from their kids, who are all catered for back in England for four days.
It is peaceful here on the beach at the end of the day,
a snapshot of time, a moment of calm and tranquility.
Towering apartments and hotels rise impressively from the beach up onto the hillside,
Our own amongst them.
It is a beautiful place, carved onto the hillside,
Full of architectural imagination and confidence.
Man has made this place, but for all its unreality it has beauty and balance.