The Embrace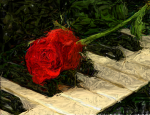 Thu, 27 Aug 2015
It started with an overture
Played sweetly with allure,
As her fingers dance with grace
In an ivory, ebony embrace.
Adagio soft and slow
The romance seemed to flow.
Not with words but music notes
Such splendor to promote.
Harmony weaved as a dream
Adds beauty to the theme,
As the passion that they share
Crescendos with great care.
In the sonata she derives
A flame on which she thrives.
Between the keys and tender hands
No other lover stands.