Cigarettes!!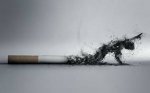 Thu, 06 Aug 2015
Chances. There were many chances I had to completely quit smoking. But I never did. At each stage of my life, I continued that habit as my identity. But now, I regret a lot and badly crave for those chances to give me a second time. The time once passed won't pass your way again. I Jacky, as a person, regret to utilize the time that had given to me at each stage of my life.
It was difficult for me to identify at first, where I was. Half covered in a white sheet around the vibrating sounds of some white colored machines, I could see many faces around me. Faces that are known and unknown to me. But sadness was the most common emotion clear in all their faces with a bit of sympathy added in it. I recognized the floor as a hospital room and soon, everything flashed to me in a second. I am having final few hours of my life and it's going to be the end of my suffering from the Throat cancer, which took the peace out of me for a few years. It all happened due to one reason: My habit of smoking.
Suddenly, I don't know from where the room started to smell of cigarettes. The same smell I got used to in all my life. The same smell which made my life end in this pitiful way. But I can't figure out from where the smoke reaches me, for I could see the hands of those around me empty. The smell gradually increased, putting me in discomfort. I struggled to speak, to switch on the exhaust to push the smoke out. But the hole drilled in my throat produced no sound, leaving me in an utter desperate situation of heaviness and pain in mind. I gave up fully my last hope of survival and freed myself fully to fate. But still, I couldn't remember how I reached here or what I was doing that made me reach here. My eyes lids closed and in the darkness I saw those chances again. Haunting again. Those chances I failed to utilize and the chances, now, disturbing me and reminding me of how stupid I valued my life.
I wouldn't start smoking if I skipped the party that Alex hosted. That was my only chance to not start this habit. But, a free night full of teenagers won't get complete without smoke and booze and my first night of smoking too was similar. I had known that it is a bad habit to start, but in a night with friends, that too at the age of sixteen, no such moral thoughts will ever get blinked in your mind. But, I accepted that habit in my life only to quit after the completion of one year, which later got faded in time leaving me as a smoker. Actually, a regular smoker.
At that time, boys of my age preferred smoking to advertise their maturity. And some showed the habit as a cool thing to do at that age. Most of the boys started smoking to show others that they are now a grown up man. But there are a good many number of situations to show that you are a man, which I realize now and regret upon. Most of the girls, except my girlfriends disliked me for that reason.
A few years passed and the number of smokers I know had increased. We smoked in circles telling tales and smoked alone to calm the tendency to smoke. I made others to start smoking and we together, shared a smoke after a good lunch. We smoked when we met and smoked when we part. Smoked every time we feel the emptiness in our hands. Finally, it reached to a count of 2-3 packets a day. Then came another chance to quit smoking in the form of my mom.
She once spotted the tobacco in my shirt pocket and another time she sensed the smell. More than once, her friends found me smoking in public and twice she witnessed herself. Each time, she made me swear upon her to quit smoking for I slipped from her telling irrelevant reasons. Many times she cried and begged to discontinue smoking and finally decided a give me some withdrawal tablets. I intelligently escaped from all her tactics which finally led me to dig my own grave. Poor mom, she is still alive when her son leaves the world.
It was a time when I found a lady that smokes. She was named Pearl. We shared similar interest in many things. We both were like hippies and she was kind of crack. She once asked me to buy her a pack of cigarette for which I did buy and she gave me two sticks from them. She made me promise to keep it as a secret and till today, I haven't told to anyone except to my countless number of friends. Slowly, our relationship grew in another way which we both finally end up cuddling on her mom's bed.
She made me know the feeling of smoking after a few hours of peaceful love making for which I was grateful to her then. It was with her I first tried marijuana and it was the high that made me bang her peacefully. We both were not lovers or was not even decided to get married. We were two humans respecting the desires both have and getting those desires fulfilled with the faithful ones we know. It was in her form my other chance came.
She decided to quit smoking as her New Year resolution and forced me to do the same. We together smoked her last cigarette at the midnight of New Year's Eve. She hasn't smoked since then, but I lit a cigarette each time to appreciate her on leaving cigarettes. Our secret relation got ended two days before her marriage with a teacher guy. That was my decision to discontinue our relation for I believe a girl fully belongs to her husband after the marriage, before that it's her life and it's she who can choose the way to live. Today, this memory made my eyes wet, for it was possible to end up smoking with her.
On my sixth year of smoking, I had found that all those who once shared a smoke with me has got rid of cigarettes in a successful way. Many of them are regularly working out in the gym and caring their body a lot. Then, I thought "why couldn't I quit this?" "Why I am pushing this harmful smoke out of my mouth in the air?" The thoughts were more stressful which made me have another cigarette to calm down my nerves to normal. Finally that day arrived in the form of my love, Aileen. It was she who made me think about quitting cigarettes. It was for her I realized the discomfort the smell of cigarette makes, which leaves a gap between us when we talk. I finally decided to throw my habit of smoking. Only for her, for her love and smile and happiness.
I was very happy and I had felt and liked the freshness when not smoking. It was difficult for the first few days due to the severe tendency to have a smoke. But, I ignored everything for her smile to shine on me. I tried to get fully engaged in things to not remember about smoking. Then I learned" Pure love makes everyone to do such nice things, even if it gives only a smile of your love". But the things hadn't stayed as peaceful as then and bad things started to follow me.
I had many friends and most of them was with me from my childhood. As a matter of fact of growing up together, we were very much interested in the violence part of youth. Movies at that time influenced us in a good way. The need for money and desire to do drugs made us do many petty things. For that we started to get to know many goons and started spending time with them. Many of my good friends told us that this new friendship will give no gain but pain. Even my Aileen advised me to stop visiting the goons. They were all right on that matter.
After a few months, one of the notorious goon in the town murdered my friend for a matter relating to drugs, more drugs, they say. I was least knowledgeable about what is happening there. But before asking my friend, I saw him drenched in blood with his right ear in front of my feet. The psychic goon that we know has killed him with a hand bomb which blasted, hitting his head, leaving him dead at the spot. Cops reached the scene within minutes and they arrested me along with them.
In the police station, I stayed shocked remembering things that my eyes had witness. It was difficult for me to believe that my friend has died in front of me. I badly felt of having a cigarette to make myself calm. I asked for a smoke and they gave me when I was questioned about the murder. After three days of cross examining by many cops of various ranks, I was freed from station considering me as a primary witness. But the media issued the news with my name along with the culprits.
What a good way of moral journalism? I thought.
A fake news in a leading newspaper cost me my love. Aileen left me and moved to another place for higher studies. The depression of losing her and the frustration of sitting alone at home made me to choose cigarette all over again. I had another cigarette to calm down on those days of nightmares. Another chance of quitting cigarettes has been lost for which I regret now.
Everything changed in time. The court crossed me for 9 hours for I am the primary witness. The strength in my words and stand helped the court to sentence the culprits for 20 years. And that incident was a life changing event. I decided to get rid of bad company and bad doings. I moved to a hill station for doing my MBA. A peaceful place in the hill areas of Kerala. All the way, for two years I continued smoking there. It was difficult to cope up with the climate of the place for which I continued smoking. But for truth, it's my addiction to cigarettes that created the reason to continue smoking. Reasons are stocked to use in times in everyone's life.
One day, when I was talking to my friend up there, named Danny, I asked him
"How did you give up smoking, man?"
For which he answered "It is simple. Learn to say "No" to every cigarette that come to you because that cigarette will make you smoke the other hundred cigarettes in a row."
It was an extraordinary quote I had heard in my entire life. This guy who said that believed, we humans are gods of their own things. It's us who decide what is to be resumed and what is to be ended in our life. I don't know why this quote touched me very badly for which I started to pass it to others. But I forgot to quit my smoking and postponed it to other undefined days. Now, I wish to be one of those person whose life has changed in a single quote.
It's very sad how silly I crave for those chances to happen again. I fancy my life in the other way. The way if I chose any of those chances in time. But they were not the last chances I had got. I could have stopped smoking since the day I got married. But I didn't. It was even possible to make a decision when Anabelle, my wife became pregnant. I didn't even thought about quitting then. Now, I am afraid to face them for the last time. I could feel her near me with her eyes filled with tears waiting to explode.
Again, I got uncomfortable due to the smell of smoke increasing in my room. I slowly opened my eyes and checked around. None smoking. But all I could see is the face of Anabelle, sitting near me with tears rolling down her cheeks. She smiled at me and kissed on my hand. The memories with her made my heart heavier. The innocence in my boy's eyes was killing me of regret. Tears formed and rolled down without any permission of me.
Suddenly it started to feel like my heart beat rising and beating very fast. Drowsiness and blurred vision overtaking my consciousness. Breathing became difficult. I struggled for air, but failed. She, Anabelle ran outdoor to call the doctor leaving me in bed. My boy stood near me with his eyes bulging outside. The capacity of mine to breathe air is decreasing as the seconds passes. I took a long last breath.
"Thank god"
I huffed waking up from the sleep with the sweat all over my face. I could hear my heart beating and my hands are shivering. I once again thanked god for making it as a bad dream. I looked around and find a cigarette bud burning near me and I could see all my friends sleeping on the couch and floor.
I realized where I am at. I muttered "It's the party that Alex hosted. My first day of smoking."