An Air Traffic Control Tower Somewhere in England! - A Monologue - 1222 words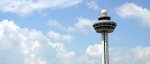 Fri, 20 Jun 2014
An Air Traffic Control Tower Somewhere in England! - A Monologue   1222 words
Female Controller:
Delta 209, you're clear for take off.
No wait…
Alpha 148 who gave you permission to taxi onto runway four niner?  Well you can't that's my runway and I've all ready told Delta 209 that he could take that slot, so you'll just have to reverse.  I don't care who gave you clearance, that's my runway and I didn't…so back off.
Delta 209 if he doesn't back off give him a push.
I said a push not a shove? 
What's that Alpha 148 he's done what?
Well you've no one to blame but yourself.
Why don't you clear off you don't belong round here. I'm a professional Air Traffic Controller I am, I'm not like you morons from Alpha Airlines.
Delta 209 Alpha 148 is blocking runway four niner.  Hang on, both stay right where you are, I have an unidentified aircraft on my screen.
Unidentified aircraft please identify?  I repeat, please identify.  No, I'm not being nosey it's my job.
Look I'm trying to help you here.
Don't you start with me buddy I'm a professional, I am.  Oh you don't think so.  Well we'll soon see about that.  Alpha 148 you're clear for take off. 
Not so clever now, are you?  You weren't expecting to meet a bloody great 747, were you?   Alpha 148 just hold your horses you can see you can't go anywhere with a light aircraft coming in.  I only wanted to give him a bit of a scare.  Okay so now we know who you are Tiger Moth Two zero zero  turn right and fly westbound till you reach Manchester airport then see if they have a spare landing slot.  No, you don't want to do that…Okay I'll clear Runway four niner just for you.  Tiger Moth two zero zero you're clear to land.  What's that?  You have visuals.  No trust me, they'll be long gone by the time you get down. 
Now we'll see who's the daddy.
That'll teach him to mess with me when I've run out of Feminax!
Okay Alpha 148 now look what you've done.  No, it wasn't doing any harm it was just a little Tiger Moth and you are a great big 747!  You're just a bully, so now will you clear off?
NO, I've told you I've given that slot to Delta 209.  Now you're for it the Airport Manager is on his way because the emergency vehicles can't get through.  He'll make you shift all right.
Delta 209 be ready for take off as soon as the wreckage is cleared away.  No, don't worry about the safety checks I'll just say ready, steady, GO…
Well if Alpha 148 is still there, just shunt him out of the way.
Hang on I'm getting a Mayday alert.  There's a plane coming in on just a wing and a prayer.  I think it best if I talk him down.  Alpha 148 you're still blocking my runway and I have an aircraft coming in on a wing and a prayer. 
What's that Captain Sensible, you don't care if he's coming in on a wing and a whole damn Bible.  Well, that's not very Christian, is it?  Is that anyway to talk when an aircraft is in trouble?
Caravelle 516 prepare to be talked down.  No, you're all right, I'm very experienced in crash landings on this runway.  Well, it's because I try to save on the electricity so I turn off all the landing lights.  Yes, but there's no need for them when you've got perfectly good lights on the plane.  Well, get yourself a powerful torch.  They're not expensive and you Pilots earn a good screw. 
Now listen carefully I've got two aircraft already on runway four niner so it's going to be a bit of a slalom to taxi round them although that will only be a problem if, for once, I'm successful in getting an aircraft down in one piece.  You would think after all the practice…still, I think I'm getting the hang of it now.  Okay so here goes,
Caravelle 516 take heading two five zero and maintain altitude, and speed 110 knots. I'm putting you into a holding pattern so you'll be all right there for a while.  No, no reason, I just like things to look nice.  I'm very creative like that.  Now, I can't stop to chat…well because I need to juggle with a few aircraft so just be patient.  What's that you can't maintain altitude? You're in what…a steep dive well you'll just have to pull up I can't do everything.  Don't get shirty with me chum…You're the one with the joystick.  Though I can't imagine you get much joy from it.  You don't want to go upsetting me…not while you're in a steep dive.  Just one call from me and the emergency vehicles could be sent to the other side of the airport.
United 117 can you move over a bit.  Well try 180 degree turn to the left no wait turn to the right. No, no sorry…I was right the first time, turn left. I can never tell my left from my right.  Yeah, okay BEA 228 anyone can make a mistake.  Oh now what's this?
Who gave that little Fokker permission to land?  Well he's just gonna have to haul his arse back up.  I need that space for my Caravelle.
Caravelle 516 I've got a little Fokker on my runway so you will definitely have to maintain altitude.  It's bad enough having to put your towel on a sun lounger but now it looks like we're gonna have to start putting them on our runways too.
 Caravelle 516 slow speed to 90 knots and maintain altitude one, eight, zero, zero.  Rock your wings if you hear me… Okay, check your landing gear is down and turn right and fly eastbound.
There's a Cessna light aircraft in front of you so don't bump into him.  Rock your wings if you hear me…
Okay Caravelle 516 you're clear to make your final approach.  What is your descent rate, altitude and air-speed?
Caravelle 516 I need you to acknowledge.  Caravelle, Affirm…
Oh dear, I seem to have lost radio contact with Caravelle 516 so we might as well have a bit of music while we wait. What about some Dolly Parton?  My favourite is 'He's Alive!' I love that and hopefully it will prove prophetic!
Okay Caravelle 516 welcome back and expect visuals on runway three zero niner.  Descend and maintain one, five, zero, zero, inbound wind speed 7 knots. Hold back on the throttle you're almost down.  Okay, now you're down, taxi to end of runway three zero niner.  Well done and congratulations on a good job.  I hope United 117 and you too BEA 228 were watching because both your landing techniques could do with some improvement. 
Caravelle 516, you are to be congratulated, that was an excellent demonstration of good landing technique.  What!  What's that you say?  Well then, Caravelle 516 that was a great landing for a plane with no undercarriage.  What you're not the pilot, he's drunk and you're what? A passenger!  Well, the plane might have no undercarriage but after that landing the same can't be said about you, mate!  I'm guessing you must be very well endowed in the undercarriage department, so well done.  Roger and out!  What's that?  How did I know your name was Roger!  Just call it a lucky guess!
End