Spring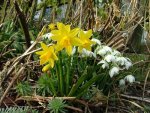 Fri, 10 Mar 2017
Spring marches in
Daffodils shine, rising like saints
To the strong slow pulse
Of the pale foggy sun.
Sap rises, Life surprises
Our budding, opening, spreading
Warm pink blossomy blooms
Of Spirit.
January, February 2017
What took us so long this year
To get ourselves back into gear?
Age, wind and water, ill health
Bad news everywhere -
But now we're here.
Like belled snowdrop clumps,
Peopling the roadside edges
We gather as friends
Alive, joyous again
Welcoming,cheering, praising
Raising our glasses and hearts
To Spring!