Talecatching - Francis Hallam, Talecatcher and Teller of Mental Health Reality.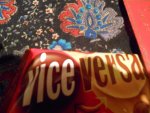 Mon, 07 Apr 2014
I met Francis last July. He worked as a Peer Reporter, story collecting for Recovery Devon. His secondary job. The tales can be found on the mental health website Welcome to Recovery Devon.
We met at the Railway Carriage Cafe in Exmouth,  in our courtyard sheltered from sea breezes and  predatory herring gulls. It amused me, in a good way, for us to meet at my work. I was happy to stir the sausages, offer myself onto our gossip hotplate.
I had no idea of the man or even what he looked like. Because the word 'Peer',in a mental health context means a person who has lived experience of mental distress I anticipated an untidy chubby man,  with lots of papers spilling out of his bag. A man with largely untapped and mayhemous journalistic potential who had experienced more hospitalisations than myself.
(I had based my incorrect assumptions on two former relationships)
Francis was waiting for me at 2pm sharp. He is a tall, slim Englishman in his early sixties. He wore tidily washed jeans and a shirt and showed no sign of weakening in the sweaty July heatwave.
We chitted and chatted amicably for a while on local topics. My daughter's work; she was working a maternity cover at West Exe College, where Steve and Dawn Maddern, the fully pensioned Head and Deputy had resigned following publication by the Echo of their humungous salaries.They had pulled the wool over the eyes of the school Board of Governors for several years. Not hard, we agreed. Francis and myself have both been Parent Governors at our children's schools.
Finding him interesting. I wanted to to know more.
'So where are you from?' I said. His well-spoken voice held a hint of something other than the Home Counties. A middle-class Brummie?
'I'm from nowhere'.
'Don't be silly.' I snapped, immediately my father's daughter. Both my parents are east European Jews and I was the first family member to be born in England. ​Where I am from, if we want to know someone we ask ​where are you from?​ There is no right or wrong answer here but we expect to hear facts and not 'hot air.'
Francis was born in the Lebanon where his father was employed as a civil engineer. When he was four his family moved to Cyprus where his father set up a small engineering business. When he was five his father was killed by Cypriot terrorists. Shortly after his mother moved to Aylesbury to his grandmother's house, taking  him and his brother with her. Some time later they acquired an English stepfather who he says was very boring.
A conversational lull occurred.
Francis moved on to 'the business of the day'
'But even on a beautiful day such as today, it is possible to feel depressed, so depressed that you might not even emerge from the duvet.'
Perfect timing, perfect prompt. I had contacted him, suggesting a personal story entitled 'Coming out of depression safely.'
A mutual exchange of experience followed then information on submitting my story. Although Francis was there to offer summarisation and editing if needs be, I said that I preferred to write my piece myself and was able to confine it to the 250 word limit required.
We met once more,  a friendly meet in the Manor Gardens. Francis  told me I was the only one of his subjects who had written their recovery story unaided. All 15 of us volunteered our tales. Some people had a wealth of  disturbing personal material locked  within. Their struggle was to get their feelings out of the prison of their head and into words. With others, according to my new friend, the problem could be verbosity.
'Perhaps', I giggled naughtily 'they are like The Ancient Mariner,' once they find someone willing to listen they go on and on.'
The summer flowers, Pampas grasses and the ornamental beds designed by primary children became audience to Coleridge's verses. Francis could recite far more than I.
Francis resigned from Recovery Devon shortly after, the main reason being his main job. He was only paid 5 hours a month as a Peer reporter though he worked far longer.  He had been working part-time as, his own words here, 'a till maggot' in his local Londis. His manager was delighted to employ such an energetic, outgoing man who, before ill-health hit hard had an varied and often very lucrative career as an international businessman. A sales assistant walked out on August Bank Holiday. Francis was offered more hours. He needed  money.
Francis Hallam; a lively strong caring middle-aged man who suffered severe depression and turned his life around. Respect.
---------------------------------------------------------------------------------------------
Francis Hallam's inspirational poem Allottment which tells of recovery through gardening is in the Creative Cafe of Welcome to Recovery Devon.
Francis Hallam does not write for Abc and is not be confused with our own very good Barely Black Francis whose poetry I recently enoyed listening to at the Wheatsheaf on March 26th