23. Chocolate Jesus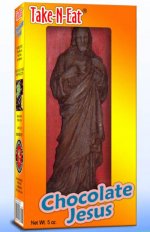 Sat, 18 Oct 2014
Bay 101 was a hobo's paradise. Right next to it were the worldly goods he may or may not have renounced. Who knew where he'd got the Wal-Mart shopping cart from? The parking-lot bay was walled with blankets and carpets hanging from ingenious arrangements of yard-rope around the pillars of the underground lot. I looked at Nelson,
'What now?'
'We go in and we talk to him.'
I laughed,
'Without knocking?'
Nelson pushed aside an acrylic blanket and shook his arm after the static shock. I followed him into The Son of God's inner sanctum...
Which was furnished like a double-wide on the outside of an ex-mining town in West Virginia. Right down to a Plastic Jesus table lamp in front of a cracked naugahyde lazy-boy recliner. The real Jesus pretty much filled the chair. He raised a hand and waved it at two bar stools standing proud above a carpet of Hershey bar wrappers. I took a seat; Nelson shuffled his feet through the candy paper.
'Ah... um...'
Blazing Apostles, yeah, right. The Great Redeemer didn't seem much bothered. Didn't take his eyes off the snowy picture in the corner showing an old episode of 'Highway to Heaven', his lips were moving along with the French subtitles.
'Nice place you got,' I said.
The Light of the World took his eyes off the set and rooted in a nostril for inspiration. Then he returned to the adventures of Jonathan Smith.
'It's home,' he said.
Nelson managed to rehearse a question sufficiently to pose it,
'Ah, Jesus. Canya just give your mom a call?'
I raised my eyebrows at Nelson. He went on,
'She really misses you.'
The fat guy picked up the remote and muted the TV set.
'Zatta Fac'?' A slow blink hid the brown eyes for a second or two. His pupils were dilated. I guess I'd have to be on drugs to watch Michael Landon playing a probationary angel. Jonathan Smith was an asshole, in any case. Always hanging around sick people, if he could get a permit to go visit the Earthbound, which didn't happen much in those days.
The Son of Man didn't look much like the table lamp. Those brown eyes for a start, hair as black as the devil's heart and a swarthy skin to boot. And the nose, well, let's just say he looked pretty much like he did come from Nazareth. Except for the baggy sweat pants, the hooded (stained) sweatshirt with the Jets logo and the Converse on his feet.
'Well, I only went out for burgers.'
He let out the laugh of a Topkapi eunuch watching the dance of the seven veils. His heart wasn't in it.
The CEO of Blazing Apostles gave out a sigh,
'I am authorised to escort you home, with extreme prejudice.'
Jesus yawned, showing the teeth that all those Hershey bars deserved.
'Y'know, I will come. I wanna meet him.'
He pointed at the screen, at Michael Landon.
'The actor?' Nelson asked.
'No, Dummy,' I answered. 'He wants to meet Jonathan Smith.'
'Why?'
I looked over at the Lamb of God,
'Because you're sick Jeez, aren't ya? Is it bad?'
'Iss terminal. No way I'd be going home to my dear old Yiddisher Momma, if it wasn't.'
Nelson's lower jaw dropped. I could see the fur on his tongue and wondered why he didn't do something about his breath, like close his mouth.
'You can't... you're imm- I mean...'
This provoked the only real reaction from the candy junkie,
'That English fool, I'd rather have been the Lion with the stupid name. That wardrobe was a neat trick though.'
Nelson looked blank, and I asked myself how someone could live forever and never read a single book.
'Come on, Naz, let's get jiggy,' I said.
Jesus smiled, 'Ah loves dat rap, homey.' He tried to give Nelson a fist bump but the guy just left him hanging. I clapped the Messiah on the shoulder and said,
'Come to Mommy.'