26. Take Me to the River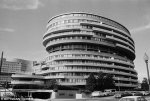 Thu, 08 Dec 2016
The nearest Hellavator point to the Key Bridge is on the 2nd floor of the Marriott, in the restrooms for the Potomac Ballroom and Conference suite. That's on the Arlington side. It's somewhere they call Watergate. Maybe you've heard of it.
Samael stood on the porcelain and looked over at the conventioners. Sharp suits and safety-pinned name tags. Two more Madison Avenue wannabees would go unnoticed. All those guys too fat and too skinny to carry off the Don Draper look and too dumb to know that the show had marketed them into unsuitable clothes. I looked at the name tag on Samael's seersucker, it read 'Van Johnson.' He cocked an eyebrow at me.
'What? You think you the only one who watches those movies?'
'Johnson? Van Johnson? You got something you want to tell me, Samael?'
I adjusted my own disguise and went out into the Marketing Professionals' Convention with a name tag that said 'Van Helsing'. Samael had shape-shifted only a little, but he still wasn't scary enough to attract attention among the conference goers. We made as if we were heading outside for a smoke, which only ensured that a dozen junior executives followed us to the lift and to the hotel entrance. Someone bumped into Samael on the way out. The geeky-looking guy had pens in his breast pocket instead of a level-fold handkerchief. He'd been staring around at the inside of the hotel, looking up into the corners of every space, even the hotel elevator.
Samael didn't kill him, but only because I touched my fellow angel on his furl-hump. He gave me a look that would have burned asbestos. The other guy's name tag read "Mark Felt III , Twin Falls, ID"
'You in IT?'
The geek jumped a foot, 'Me? No... I...' He swallowed and I saw his adam's-apple jerk. Then he coughed as though he had something stuck deep in his throat
'I'm in hygenic paper products.'
'No shit!' Samael snarled, before I hustled him off down to the river by the Key Bridge.
We had skirted the perimeter of the hotel building, passed the kitchen dumpsters as soon as the Eastern European bus-boys had finished their smoke, then climbed a junk-yard fence. We were stumbling through the trees on the riverbank when we saw him, floating face down by a brownstone pillar holding Route 29 over the Potomac.
'He's dead? How can that happen?' I looked over at Samael. He spat into the brown water.
'You know how.'
'But...'
'Maybe the rumours are true.'
'So if he does have it, what is Uriel doing letting him out of Heaven?'
'He's still the main man.' Samael shrugged, bored.
'Anyway,' he went on. 'You should be asking why he killed Nelson.'
'If he is, you know... why would he bother?'
'It starts slow, if you're lucky. The earthbound have only started to notice it since they started living longer. You know we angels have been always been susceptible. Michael hasn't said a word for years. Peter's always been ga-ga, you know that.'
'Yeah,' I cleared my throat. 'But who thinks they'll get something like that?'
'Ever wonder why so many fall?'
'You're joking, Sammy.'
But I could see he wasn't.
Nelson's wings were furled under his clothes. Sammy turned him over. His eye sockets were empty and his ears had been severed. I looked in Nelson's pockets and found the ears at least.
'Don't look for the eyeballs, Gabe.' Sammy pointed a finger at his own mouth and let Nelson's body fall into the water. He looked up towards Arlington and I could hear sirens in the distance. We unfurled and flew into the wide blue. We didn't make it as far as yonder.