29. (Oh Lord, Won't You Buy Me A) Mercedes Benz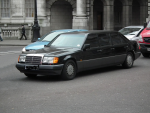 Tue, 12 Feb 2019
Out in the parking lot a car crawled alongside me. There was no kerb within hailing distance and I guessed Mr Deeds wasn't that kind of establishment, though maybe that would have suited Azazael better. It was one of Mercedes Benz's finest limousines with a street-illegal glass tint, I was either being accosted by a gangster or a rap star, maybe both.
I kept walking across the lot. The driver's window rolled smoothly down. I smelt the cigar smoke before I recognised the features under the hat. Ray Walston as Mr Applegate. No matter what disguise he wore, you knew you were in the presence of the Old Adversary. His presence perhaps.
'Going my way?'
'Wrong movie,' I said.
'Your sidekick's in the back. She's a cutie, but this ain't no death cab.'
Since I had no idea what Mr D was talking about, I got in.
The limo was as blinged out as a rapper's wheels. Sam Sara looked dressed for a movie premiere in a dress as red as any carpet.
'It's today?'
'Yeah, course it's today. I booked the limo, don't worry about the driver. He's kinda cute. 'Cept for the cigar smoke.'
'What'd he say when you told him it was against the law?'
'He said, damned if I care, long as you don't mind.'
'Huh, you shoulda told him to put it out.'
'Cool it, Gabe. It's not our limousine.'
The Benz was broaching the car-lot exit ready to join the traffic out of Falls Church towards D.C. Mr D put his arm over the back of the seat.
'Yeah, Gabe. Live a little.' and he blew a cloud of Havana smoke in my face.
I looked at Sam Sara's legs.
'Am I underdressed or are you overdressed?'
She lifted an eyebrow, 'What did it say on the invite?'
'There was no dress code.'
'Well, duh! It said prizes to be presented by Mrs. POTUS, didn't it? You think she'll be turning up in a muu-muu and crocs?'
We still hadn't pulled away and Mr D had followed the exchange with interest,
'Well, Sir, might I call you Gabe too? There is a tuxedo in your size in the trunk.'
'How do you know what size I'll need? And it's Gabriel.'
'There are nine suits in three fittings in there, Gabe. I like to plan ahead.'
What Sam made of this, I didn't know. Maybe nothing, she was face downward, lost in her cell-phone screen. Mr D did the Groucho eyebrows at me and it looked funny on My Favourite Martian's younger face, so I laughed.
'The Trump D.C. it is then. Guess the first lady didn't choose the venue, Gabe, huh?'
Mr D squared his chauffeur's cap away and took the Benz out of park, whistling a few bars of "Whatever Lola Wants" as he did it.
Guess I didn't mention how Lila/Lilith ended up in the White House. It was an everyday story of Washington folk. Trump's Veep had had a heart attack 2 months into Donald's term. Who could blame him after the Trump announced that he was "sorry" he'd confused Taiwan with Tijuana for so long and that the nuke was 'y'know a mistake any buddy could make, bigly.' Andrew Straussman came from nowhere, one of those flyover states. He brought a beautiful wife in tow. He was sworn in as V-Potus on the plane out of Eppley Airfield in Omaha.
Before the year was out Trump was impeached for lying to Congress during the investigation into his activities on his only state visit to Moscow. Putin broke off diplomatic relations saying that if anyone was going to be grabbing pussy it would Nashi Volodya. In any event, Straussman and his beautiful wife looked good on the White House lawn. Lilith was an asset to the administration. Everybody said so, especially the men on Capitol Hill.
This much a guy could have gleaned from The Washington Post. Lilith's motives for engineering her rise - as Lily Radziwill - to the position of First Lady would be more difficult to find. Unless, of course, J-Rod had been right.