41. Love Missile F1-11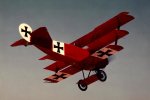 Mon, 30 Mar 2020
It was the biggest hangar and the closest to the the miles of concrete stretching out into the scrub. Whatever was inside wouldn't have to roll far to the runway. The doors were locked, but they were mechanised anyhow. They looked like they each weighed as much as anything hidden inside them. Mr D waved his arms and intoned in a deep bass baritone,
'Treguna Mekoides Trecorum Satis Dee!'
A marble slab appeared in the concrete. It had a huge brass ring let into it. The Devil cackled,
'Make like Aladdin, Gabe. Don't bother with the ancestors, since you don't have any.'
I couldn't figure out what was so funny, but I tugged at the ring and it was as light as something from a crackerjack box. So I fell on my ass. The mammoth gates slid open. J-Rod slipped inside, followed by the Devil and then me. The huge space was lit up as if for Friday Night Football. The only aircraft inside looked like the one flown by Snoopy's arch-enemy. It was even red. The only thing it might have been good for was a little crop-spraying.
'What the hell is that?' It just slipped out. Mr D blew some air out between his lips,
'You really ought to know better, Gabe.'
J-Rod was making those signs Walter Slezak made up for Jamal in Sinbad the Sailor, warding off the Evil Eye. Superstition is a weird thing: no-one is more supertitious than somebody created out of others' beliefs. Even Lucifer. Maybe it was just custom, we didn't like to refer to Heaven or Hell when we were with the Earthbound.
J-Rod gave an answer - of sorts, 'it's the ultimate weapon. The one that will end all wars. Even the proxy one between himself' he nodded at the Devil 'and G-O-D.'
I laughed. 'It's a toy plane from World War I, what in Purgatory can it do?' Chernobog let out a hiss, J-Rod flinched,
'For one thing, Gabe, once it takes off it can fly forever. Even angels can't do that.'
'So what? You can spray all the crops in the world with pesticide, every Earthbounder dies of starvation and so there's no more fighting? Sounds drastic, Mr D.'
'Take a look at the underside.'
I did, there was a reservoir tank and a spray nozzle.
'It's not pesticide in there, Gabe.'
'What then?'
'Could call it a lot of things. Liquid E. St John's Wort, Valerian. I like to call it Love Potion #9. It's very strong. I made it myself.'
I looked from J-Rod to Euronymus, who was fading like an analogue TV-signal.
'So what am I doing here?'
J-Rod laughed. The bearer of infernal names stage-whispered, 'You're going to stay here, disguised as J-Rod long enough for him to spray the whole world in Lovedust.' His signal faded out. J-Rod was already in the cockpit. He pointed at the aircraft's airscrew then down at the chocks in front of the aircraft's wheels. I gave the propellor a whirl, and the engine caught. I pulled on the rope and cleared the chocks. J-Rod was wearing a leather helmet and goggles, I figured he'd be gone for as long as Amelia Earhart. He waved cheerily as the 'plane rolled out of the hangar.
The 'plane was a hundred feet up before the utility vehicles and jeeps unloaded enough Jarheads to take everything from the Halls of Montezuma to The Shores of Tripoli. They were all pointing carbines and machine pistols at me. I had my arms on my head and my knees on the concrete by the time a Major Houlihan was pointing a dainty little Walther at my left eyeball.