Bronte's Inferno V (Kobold)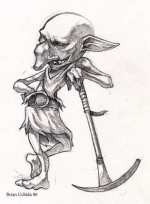 Thu, 20 Jan 2022
1 likes
The Editor left the building and disappeared into lunchtime comers and goers. At the counter, I waved a fiver at the Arkwrights and they waived the bill.
'We're not licensed for other business…' Amanda said, and they both shrugged, as awkward as teenagers at a wedding disco.
I nodded, getting where they were coming from.
At home I napalmed Rafe Sabatini's on-line presence, just as soon as I'd downloaded all the data everyone from Zuckerberg to FailingWriters.com had on him. Or was that me? Sometimes even I didn't know. Then I changed my VPN provider to one from a company in Turks & Caicos. I kept my real name e-mail address. I hadn't used it in five years, except for (non-)royalties statements from Untethered. That makes it sound like it all took ten minutes. It didn't.
A week later, I'd taken my life in my hands by descending the leaf-mulched stone of The Cat Steps. I was walking through the woods. The bare trees were nice, though better in the spring of course. I went to take in the brutalist architecture of Hullen Edge, with its oblong-block outcrops and regular shaped caves. When the sun peeped through the canopy, the yellow stone looked like desert pattern camouflage. Not so striking in the winter, but still magnificent, apart from the litter.
I saw movement in the largest cave, the entrance was twelve feet by three. It looked like someone had removed a large piece of stone for some or other henge. I went closer. A bent figure emerged. Although he was far too old, he was dressed like a journeyman "auf der Walz". There was something of the Harz about the Edge. The man straightened as best he could and held out a hand to shake, he went for the Masonic move and I dropped his hand.
'Ach, it is all nonsense anyway. I am Kobold, I work for The Editor.'
'Pleased to meet you,' I said.
'Are you, Mr _______?'
Perhaps I wasn't, especially since he knew my real name. Kobold gave a slow nod, then took a deep breath,
'I have been looking for you.'
'Found me then, haven't you?'
He gave a phlegmy cackle as if breathing the fresh air had irritated his throat.
'Not yet, I haven't, but I will. No-one can hide from me. No dark web portal is closed to me. Your VPN won't protect you.'
'It will slow you and Charnel House down. Eventually, The Editor will look for someone else.'
He laughed again, then spat.
'He wants you. Besides why wouldn't you take the offer? It is the best deal. Beyond your wildest dreams.'
There was the tell-tale ping of something arriving on a mobile. Kobold took out something that looked like an ancient Nokia but clearly wasn't. He used a pointed fingernail as a stylus on the tiny screen.
'Ha! Once again I live up to my name. Good morning, MickeyBulgakov@mailbox.pro.tc '
Kobold turned the screen towards me. The display seemed to float in the air above the phone. There was an email composition window. From, To and Subject were filled in.
From: Datenkobold@LeichenHaus.com
To: MickeyBulgakov@mailbox.pro.tc
Subject: Meeting Today at Fleece Inn. Now
Kobold's long fingernail typed faster than I could with two thumbs.
'Better go, Mr ________, he's waiting.'
Kobold scuttled into the cave and was lost to the darkness three feet in. I turned on my heel and headed back up The Cat's Steps. I'd be in The Fleece in ten minutes. Daten Kobold would find me in less than a week next time. I wondered how rich a company Charnel House was, when it had tech that I'd never even heard of.