Bronte's Inferno XIX (Alligator Lizards On The Way To Malham)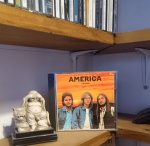 Fri, 21 Oct 2022
I heard Charon before she got as far as the room with the digi-juke. Well, I heard the smashing of glass and a high-pitched gurgling sound. I went through to the bar. Thankfully, all the smashed glass was on the flagstone floor, and not rammed at the tattoo-ed guy's neck. Maybe the dark stain around the crutch of his paint-flecked jeans indicated the glass had been full, rather than his bladder. There were beads of sweat on his shaven head and more running down the inked iron-cross on the back of his neck. Charon's leather-gloved hand was holding the thug by the throat, keeping him shoved against one of the sepia photographs that hung so high on the wall it was getting it's first dusting in decades. The landlady was polishing a glass that was already clean, looking like she wished she could have a cigarette instead.
'You, Mister,' Charon was saying, 'are ten thousand generations nearer to being a monkey than I will ever be.'
With that she gave the Neo a final shake of the throat and let him drop in a heap on the glass-littered floor. She turned to me and smiled,
'Now then, Sir, where would you like to go.'
Because I have always been careful, I said I'd tell her in the car.
The window between Charon and I was open.
'Quo Vadis, Imperator?' she said.
'Isn't Charon, a Greek name?'
'Greek, Roman, what does it matter, when the empire has fallen?'
'I'm going to stay up at Malham Cove for a few days.'
'Hotel?'
'One of those holiday rental things. Shepherd's hut.'
Charon put the Rolls in gear and steered the Phantom V smoothly out of The Fleece's eight-space car park. The window between us stayed open. I put my hand on the back of the shotgun seat in front.
'Sorry about that, in there. Lucky he was on his own, eh?'
'He sure was.'
She pushed a cartridge into the 8-track. Not Deep Purple this time. America… Ventura Highway. I thought to myself I'd keep an eye out for alligator lizards on the way to Malham.