Cutting Velvet for Raincoats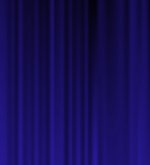 Mon, 15 May 2017
The oldies radio is playing that song from one of David Lynch's weirdo movies. The one with Isabella Rossellini. You know the song, by the Polish Prince of Poch, Bobby Vinton. I watched that movie with Gretchen Applebaum at the last drive-in-show in Silvertown. She put her hand on me to check if I was enjoying the movie as much as I knew she was. Gretchen signed up for the military after high-school. Her ma cried for weeks after. She didn't shed one tear when Gretchen died in a road traffic accident in Frankfurt, Germany. I did. I cry for all the girls I've loved before… Yeah, like Willie Nelson does.
I'm smoking outside the diner by the gas-station on the way out of town. It's all aluminium and once-bright colours. It's as American as a Polish sausage. It's empty, apart from Zipowicz and the waitress who is his age and weight and has the same moustache. The music from the radio floats out the open doors and windows of the Luncheonette to be swallowed up by the noise of the traffic heading toward the interstate. Not that there's much: traffic that is. The town useta make auto-parts for factories up-state. You seen cars now? They're just computers on wheels. Cain't fix 'em by the roadside. You can change a tyre and that's all she wrote, on some of 'em.
Our President says he's going to bring those jobs back. I cain't see how. What's a machine-tool operator going to make? Chuck Bulowski voted for the guy. I told him it was all blabber and smoke. Ain't spoken for a year, and I was married to his sister for eight years, 'til she ran off with her teacher from the community college. Elaine was studying for a liberal arts major, I hear she was pregnant when they lit out. Who says you get nuthin' with your college degree? I cried into a few beers. That woulda been 94, I guess. Still had a job, anyhow.
I was pretty lucky, if you wanna think about it. Kept my job until 2005. Chuck lost his job around the same time. You do the math, we've been outta work for twelve years. Who's gonna give 50-year-old guys training, never mind a job? If'n they do open the auto-parts factory, what could we do? I cain't tell one printed circuit from another, when I was a kid our radio still had valves. And if they open the factory for machine tooling? Making what we used to make? That's no good for your Subaru and Toyota. It'll be like cutting velvet for raincoats.