emptying the sea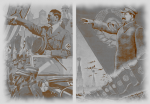 Mon, 26 Oct 2020
For auction on line, natch:
Mussolini's hat,
Hitler's wanky-hanky
and maybe Stalin's underpants;
Their murky origins,
not pronounced 'prov'naung-ss',
as they're read from
the screen by semi-literates,
with 18 or the other JC
tattooed somewhere
on their illustrated body.
Down their web-darkened rabbit hole
they tumble, passing the twitter
of whispering trolls on their way
to sociopathic psychosis,
discarding common sense
and empathy as they fall.
And once persuaded of their truth
-be it dexter or sinister-
they are deaf to all arguments:
logic is no weapon against lunacy,
may as well empty the sea
with a thimble.