Evening Walk in a Seaside Town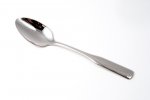 Sat, 26 Aug 2017
Prufrock's Companion
Strewn behind us, I can see the skins of former lives,
trousers pin-striped, soldier's parade-serge
and even battle dress, though I fought
at far remove from blood and bullets.
Let us go then, you and I
to where the future surely lies
at the foot of the hill;
where the tombstone milestone
reads our three score and ten,
or the hundred-and-one
of some unlucky men.
And if we'd asked,
looked beyond the gypsy's curtain,
passed the silver to gnarling knuckles,
for crystal-scrying most uncertain?
Imagine, the crone's tent or pier-end
poster-paint clap-board booth.
"Fortunes told, enquire within"
We'd feel the goosebumps on our skin.
Madame Blandini
A corvid figure, crouched in her chair,
her pitch-black scarf covers her hair,
she chooses her words with consummate care,
with the aid of a pin and La Dictionnaire.
No matter her speaking makes no sense,
she writhes with passion, her words intense.
For nothing "begins"- it must commence,
for nonsense predictions, small recompense.
"Woe betide the poetry man,
who writes what he knows,
who writes what he can."
The palm opens, the coin is gone
"I'll need another to carry on."
And she tells it all,
such a bitter truth,
looks back at the mis-steps,
the folly of youth.
Of foolish, unrequired love,
still less than unrequited.
We give her unkind, parting words:
"Light a candle, cast a spell,
speak in runes, you might as well".
Twilight Time
But we did not go,
we passed the pier by
and made our promenade
along the sea-front
as the sun drowned
in flat grey water
off Margate or Brighton Beach.
And if we'd gone,
down the dingy dungeon stairs
into that other world,
of secret, sequinned, he who dares?
Stearns in Clubland
Watchful eyes, used to the dark,
welcome us together,
how can they not?
You and I: we are as inseperable
as Castor and Pollux,
Hermes and Aphrodite,
ego and id.
There are hands linked
across single-candled tables,
they disconnect briefly,
then reconnect as we pass by
and "sit-ye-down"
anent a whispered
request or permission
at an ill-lit table
of our own.
My one drink is cheap
for freedom comes gratis
with it, though there are
no hands across this table.
Coda
And in that bar a mermaid sang
to other mermaids and
-for once, just this once-
for you and me.