If I Did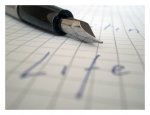 Mon, 21 Oct 2019
If I poured it out,
spilled it all over the page,
the paper would dissolve
faster than Jim Phelps's tape.
This mission's impossible.
If I wrote an honest word,
you'd hate me for it,
for letting you see inside,
where there's nothing to see,
just like behind Oz's curtain.
If I even could,
(I surely doubt I would
or that I ever should:
it won't do any good)
I won't be understood.
And if, perchance, I did,
who would believe me?